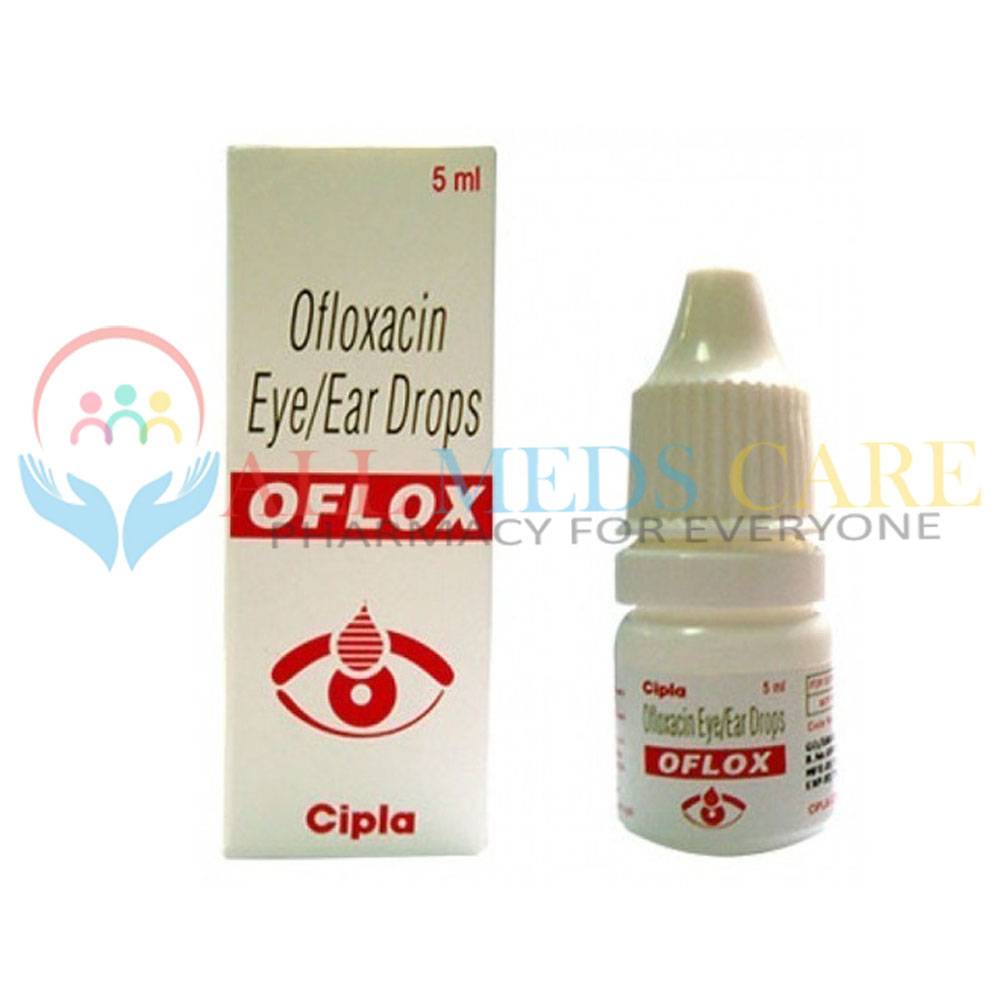 Buy Generic Ocuflox online, Treat Bacterial Infections Easily!
Generic Ocuflox Eye drops treat infection of eye and inflammation that occurs in eyes. When it comes to treating eye bacterial infection Generic Ocuflox drops for eye infection are the best. The main ingredient of Generic Ocuflox is fluoroquinolone.
Bottles
Strength
Price
Price/Unit
5 Bottles (0.033% of 5 ml)
5 ml

$

95.00
19
15 Bottles (0.033% of 5 ml)
5 ml

$

255.00
17
20 Bottles (0.033% of 5 ml)

$

300.00
15
Description
Buy Generic Ocuflox drops for eye infection treatment
Generic Ocuflox Eye drops are also called quinolone antibiotics and these eye drops are known to directly kill bacterial cells. Ofloxacin is the main active ingredient of Ocuflox ophthalmic Eye Drops.  It inhibits the DNA gyrase enzyme, an enzyme primarily responsible for bacterial growth during infection. This stops the production and repair of bacteria. Thus, treating the infection. Allmedscare.com offers low-priced Generic Ocuflox Eye drops online.
(Generic/)Ocuflox eye drops are prescribed at a very initial stage. To stop bacterial infection, an ophthalmologist recommends using Ocuflox even before the medical results are out. If the infection is bacterial the treatment can be continued and in other cases, your doctor may assist with some other medication or drops.
What kind of eye infections can be treated with help of Ocuflox ophthalmic?
Oculus Eye Drops treat two kinds of infections. These are:
Bacterial eye infection: It often occurs in patients who use spectacles or in those who use contact lenses. Our outer body consists of a lot of ophthalmic microscopic inhabitants. Most of them are not harmful to the body. These bacteria are really opportunistic and when not taken proper care make their way inside a scratch or lesion in the eye. Such bacterial infection often occurs when a person does not wash their hands clean before coming in contact with the eyes.
Conjunctivitis or pink eye: These bacteria are a quick transformer. They are contagious that can easily pass on to a large audience. Most of the time one can notice conjunctivitis happening to an entire family or a group of people that come in regular contact with each other.
In both of the above cases Ocuflox ophthalmic works by demolishing the growth and healing power of bacteria.
NOTE: Ophthalmologists prescribe and suggest to buy Generic Ocuflox eye drops to treat bacterial infections. These eye drops are ineffective in treating fungi or viral infections of the eyes.
How to use Generic Ocuflox Eye Drops?
The drops are used to treat different types of eye bacterial infections. Hence the dose of these eye drops varies. Contact your ophthalmologist for the best guidance.  Do not use this medicine in smaller or larger amounts for a longer time without consulting your ophthalmologist/pharmacist.
Special note: For all those who use contact lenses make sure not to use them 15 minutes before and after the use of such eye drops.
The following is the best way to apply the Ocuflux eye drops:
Incline your head in the backward position marginally and tweak down the lower eyelid for making a tiny pocket so that it becomes easy to drop the medicine into the eye. Grasp the dropper over the eyes with the help of the tip facing downwards. After that, look upwards and far from the dispenser and squeeze out the dropper to pour the drop into the eye.
Close your eyes for 3 minutes without squinting or blinking. Slightly press the finger towards the inside eye's corner for 1 minute in order to stop the liquid from ditching inside the tear channel.
Put the number of drops as prescribed by your doctor. Maintain a gap of 10 minutes if using any other eye drops.
While undergoing the treatment of corneal ulcers your ophthalmologist may recommend using Generic Ocuflox drops every 4 to 6 hours. Don't forget to follow all the instructions given by your ophthalmologist carefully. You may see a white color accumulation over the ulcer. It is an indication that the medicine is functioning in the right way. This accumulation should vanish within a few weeks or days of treatment.
Do not touch the tip of the eye drop container. A dirty dropper may cause an infection in your eye that can result in some severe vision issues.
Do not use these drops if you notice particle matter in the drops or a change in the color of the drops. Ocuflox eye drops are transparent colored liquid.
The medicine should be stored at room temperature. Keep it away from heat and moist areas. Do not freeze these eye drops. Always make sure to close the bottle tightly after every use.
Major Side-Effects of Ocuflox
If you are having the following problems, talk to your physician/ophthalmologist immediately: eye aching, harsh stinging, burning sensation or irritation after using these drops, harsh skin reaction, painful throat, fever, inflammation in the tongue or face, scorching in the eyes; pain in the skin with purple or red skin rash which spreads (particularly on the upper part of the body or face) and results in peeling and blistering.
NOTE:- The above is not a complete list of Oculflox side effects. There may be some other effects that can occur. So, you should always talk to your doctor/ophthalmologist regarding the side effects of the medicine.
Dosage
What is the right dosage of Generic Ocuflox Eye Drops?
The suggested dosage of Generic Ocuflox for treating bacterial conjunctivitis is:
Days 1 and 2: Put 1 to 2 drops each 2 to 4 hours inside the eye(s) to be cured
Days 3 to day 7: Put 1 to 2 drops 4 times every day
The suggested dosage of Generic Ocuflox for treating infective corneal ulcers is:
Days 1 and 2: Put 1 to 2 droplets inside the eye to be cured every 30 minutes, but you should be wakeful. Wake up at around 4 and 6 hours afterward self-effacing and put 1 to 2 droplets
Days 3 to day 9: Put 1 to 2 drops every hour, while wakeful
Days 9 to the cure accomplishment: Put 1 to 2 drops, 4 times every day
Use Generic Ocuflox as per the ophthalmologist's prescription. Carefully follow all the instructions written on the prescription label. An ophthalmologist may suggest the right dosage based on the following assessments:
Observation on whether a patient is having any other medical disorders.
The intensity of the disorder or medical problem.
Age of the patient
Currently any ongoing prescriptions.
Precautions
What precautions should be taken after you buy Generic Ocuflox eye drops?
The following precautions should be taken in order to have complete benefits from this medication:
Before starting the usage of Generic Ocuflox, you should inform your ophthalmologist about any type of allergies or medical issues that you are already facing. Besides these, you should also provide information about all the medicines that you are consuming.
The effectiveness and safety of this medication usage have not been recognized for kids. For treating eye infections in children, it is suggested to use these eye drops only on the recommendation of an ophthalmologist.
During treatment, the increase in a number of bacteria that are not influenced by Generic Ocuflox may happen and result in a fresh eye infection. If you are facing the signs of a fresh eye infection (for example, discharge, eye soreness, itching, or discomfort), call your ophthalmologist.
The effectiveness and safety of Generic Ocuflox while applying contact lenses to eyes have not been recognized. You should not wear contact lenses during the usage of the medication.
Wash hands before using Ocuflox eye drops. It is advised not to touch the dropper with the bare hand in order to avoid any chance of contamination.
Patient's who plan to buy Generic Ocuflox eye drops online, should buy these drops from an authentic pharmacy like Allmedscare.com.
Side Effects & Warnings
What are the side effects of Generic Ocuflox eye drops?
The common side effects of Generic Ocuflox eye drops are:
Pain in the back of eyes
Eye ache
Eye dehydration
Sensitivity or feeling of something inside the eye.
Blurry visualization
Sore Eye
Irritation, or wetting, slight stinging, burning, or other uneasiness
Eyes get extra sensitive towards the light.
Inflamed or swollen eyelids.
NOTE: You should get emergency medical aid in case of an allergic reaction. Signs like problems in breathing; rashes or inflammation of the lips, face, throat, or tongue may need urgent medical intervention.
FAQ's
Questions customers ask before they buy Generic Ocuflox Online!
What does the Ocuflox eye drop cure?
It belongs to the antibacterial class of drugs that are mainly suggested for curing bacterial infections in the eyes and ulcers in the cornea of the eyes.
How much longer do we have to use these eye drops?
You should use this medication till the time you find an improvement in the condition of your eyes. Moreover, your doctor will diagnose your condition in a better way and decide on the right treatment to manage your condition. Generally, the treatment varies from 7 to 9 days.
How many times a day do I need to put these eye drops in my eyes?
After diagnosing your problem, your doctor will guide you about the frequency of the eye drops that you need to put in your eyes. The condition and problem of a patient vary. Therefore, only a doctor can guide better regarding the dosage quantity and frequency of application.
What is the best to store and dispose-off the eye drops?
You should store the eye drops in a dry and cool place safely. Do not touch the tip of the nozzle with your hands at all. Always keep it in the upright position. After reaching the expiry date, you should discard it carefully. Room temperate is best to store this medication.
What should I do if I miss the dose of the eye drops?
You should take the dose as soon as you come to know about the missed dose. Do not take a double dose of the eye drops to make up for the missed dose.
Customer Testimonials
Generic Ocuflox Reviews By Our Customers
Paul White, NV – USA
Oculflox eye drops are prescribed to my daughter for Conjunctivitis. The drops work incredibly. I followed all the instructions for using this medication correctly. I purchased this medication from Allmedscare.com. The prices were really very low.
Brian Clark, MN- USA
I was facing a pink eye issue for the past few days. Then, my doctor diagnosed a corneal ulcer in it and prescribed me these eye drops.  I used these drops and the problem has gone. Nice eye drops, Very effective!