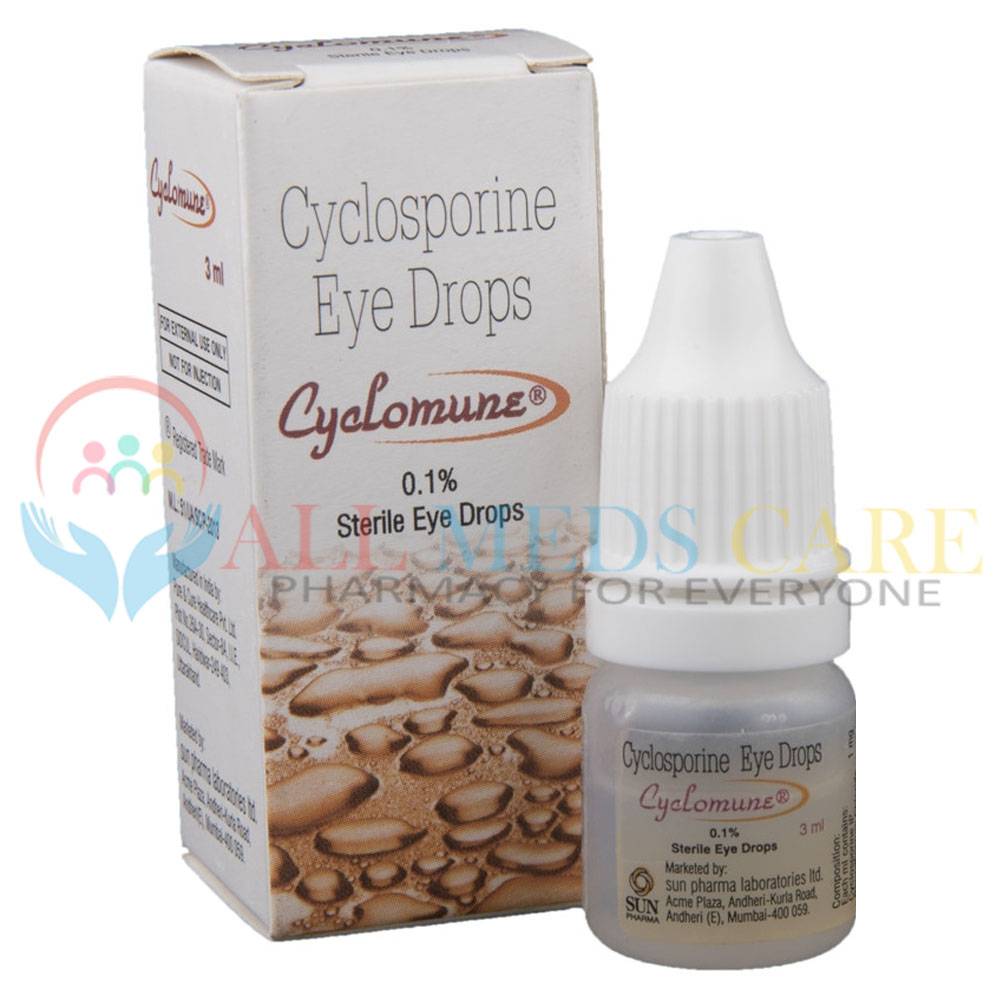 Buy Cyclosporine Eye Drops, Treat dry eyes problem!
Cyclosporine Eye Drops belong to the class of drugs called Immunomodulators. These eye drops treat the problem of dry eyes in affected patients. Suffering from dry eye problems? Buy Cyclosporine Eye Drops online from Allmedscare.com. Cyclosporine Eye Drops for dry eyes are quite effective and are famous globally.
Bottles
Strength
Price
Price/Unit
5 Bottles (0.05% / 5 ml)
5 ml

$

175.00
35
15 Bottles (0.05% / 5 ml)
5 ml

$

480.00
32
20 Bottles (0.05% / 5 ml)
5 ml

$

600.00
30
Description
Cyclosporine Eye Drops for dry eyes treatment
Cyclosporine Eye Drops for dry eyes mainly treat the issues related to swelling, pain, and dryness of eyes in patients. Numerous people around the world face the problem of swelling in the eyes. During the diagnosis, the doctor comes to know that it is an issue of dry eyes.
A dry or dehydrated eye causes damage to the Cornea(the topmost layer of the eye that covers the Iris and pupil). As a result of this damage, tears stop flowing from the eyes.  No or very little production of tears can lead to swelling in the eyes. The pressure in the eyes starts increasing with the passage of time. Negligence in such cases can lead to the impairment of the eyes forever. Cyclosporine Eye Drops help to overcome such problems successfully. It stimulates the production of tears which decreases the swelling in the eyes and also benefits in getting rid of dry eye disorder.
Cyclosporine eye drops are available as a liquid. It is a prescribed medication that should be used only after the doctor's approval. You should buy Cyclosporine online after having a prescription.
How does Cyclosporine function?
Cyclosporine helps a person in getting rid of dry eye issues. It functions on the immune cells of the eyes. The immune cells are responsible for the swelling and issue of dryness in the eyes. Cyclosporine helps in reversing such conditions and increasing the production of tears in the eyes. You will not see the effect of the medication immediately. The treatment should be continued for some time in order to experience relief from the problem of dry eyes. It takes some time for displaying the effects.
What is the best way to store the eye drops of Cyclosporine?
Store Cyclosporine eye drops at room temperature. The temperature of the room should not be less than 15°C and should not be more than 30°C. You should strictly follow this condition. Extremely cool or extremely hot conditions affect the potential of this drug.
The bottle of eye drops must be kept away from bright, hot, and moist areas like kitchen sinks or bathrooms. Moreover, you should store it away from pets and kids in an airtight container.
Dosage
How to use Cyclosporine correctly for effective results?
Cyclosporine is available in the form of a liquid. So, you have to put drops of the medication in your infected eye as recommended by the doctor.
Your ophthalmologist may assess your dry eye problem and suggest you buy Cyclosporine online. Your doctor may ask you to have the medication twice in 24 hours for fast recovery. Maintain a gap of 12 hours, if the drug needs to be taken twice a day.
To avoid contamination, wash your hands thoroughly before using the Cyclosporine Eye Drops for dry eye treatment. The tip of the eye drops bottle should not be touched.
Turn the bottle upside down every time before using Cyclosporine Eye Drops for treating dry eyes. After tilting your head in the upward direction create a pouch in the eyes. Now, put the drops as suggested by your doctor in the eyes.
After putting the drops, do not open the eyes for at least 2 minutes. Moreover, rubbing and blinking of the eyes are also not recommended.
Some of you may be using contact lenses so before putting the eye drops, do not forget to take out the lenses. Cyclosporine eye drops should only be instilled after 15 minutes of removing the lenses.
It is advisable to use the drug at a similar time regularly.
Precautions
What safety measures patients should follow while using Cyclosporine?
The following are a few safety measures we should follow while using Cyclosporine:
You should buy Cyclosporine only on the recommendation of your doctor.
Any person who feels allergic to Cyclosporine(Gengraf, Neoral, Sandimmune) should discontinue the usage of the drug as soon as possible. Tell your pharmacist and doctor about your allergy.
If you are suffering from some other eye ailment or problem and undergoing treatment for it. You should inform your doctor and pharmacist about it.
The medication should not be used if you are wearing contact lenses in your eyes. You need to take them out before using the drops. There should be a gap of 15 minutes between taking out the lenses and using the drug.
Some people may experience blur vision or dizziness after they use the purchased Cyclosporine online. Therefore, it is advised not to do any physical work for some time after applying the drops.
Buy Cyclosporine Eye Drops online from an authentic pharmacy. Allmedscare.com provides these eye drops at the lowest price online.
Side Effects & Warnings
Side Effects of Cyclosporine eye drops
What are the common side effects of using eye drops of Cyclosporine?
There is no need to worry much about the common side effects of Cyclosporine eye drops. The common side effects of this drug will subside in a few minutes. However, if these signs stay for a longer time, it's better to have a word with your doctor.
The following are the common side effects of using Cyclosporine drops:
Stinging
Burning sensation
Redness
Blur vision
Itching
Headache
Pain in the eyes
feeling that something is in the eye
eyelid swelling
eye discharge
What are the serious side effects of using eye drops of Cyclosporine?
It is very rare that you come across the serious side effects of Cyclosporine.
The following are the serious side effects of cyclosporine:
face, throat, eyes, and tongue swelling
shortness of breath
Hives and Itching.
Can cause yellow fluid discharge from the eye.
It may lead to blurred vision, eye pain, or irritation.
This eye drops for dry eyes may lead to difficulty in reading, halos around lights, etc.
In a few cases, it may lead to itching skin, headache, and sticky or matted eyelashes.
Redness, swelling, or itching of the eyelid.
Watery eye,  stinging, bloody or cloudy urine, Bladder pain, lower back or side pain.
 NOTE: So, if the above side effects stay for a longer time then, immediately see your doctor for the cure. 
FAQ's
Questions customers ask before they buy Cyclosporine eye drops online!
What is the correct dose of Cyclosporine?
Online Cyclosporine is taken only if prescribed by the doctor. You should use it as per the doctor's suggestion. The most suitable and standard dosage of the drug is 0.05% 3ml.
The drug is available in tiny bottles and one bottle is equivalent to the solitary dosage. After opening the bottle you should use it instantly. You should not let the bottle stay open without any reason.
Who can use Cyclosporine Eye Drops?
Any person whether male or female can make use of Cyclosporine. The only condition for using the drug is that he or she should use it on the recommendation of a doctor.
What will happen if I miss the dose of Cyclosporine?
You should try to have the eye drops of Cyclosporine at a similar time daily. But if somehow you forget to use the medication then, have the eye drops as soon as you come to know.
You should keep in mind that you cannot put two doses of the drug at one time. There should be a gap of 12 hours between the two doses.
What will happen if I take an overdose of Cyclosporine?
The overdose of Cyclosporine medication must be handled cautiously. On the other hand, if you have taken an overdose of the drug then, quickly wash off your eyes well with the help of water. Moreover, you should get medical advice from your doctor if required.
Drugs that show interaction with Cyclosporine Eye Drops?
Cyclosporine has the propensity to interact with other medications. At the time of your health check-up, your doctor will ask you several queries regarding the drug that you are taking along with your medical history.
Do not begin any new medicine if you are undergoing the treatment of cyclosporine without informing your doctor. Moreover, it is essential to notify your physician regarding all the non-prescription drugs, prescription drugs, vitamins, and herbal supplements consumed before starting the treatment.
Customer Testimonials
Cyclosporine Reviews By Our Customers
Ronald Clark, United States
I was facing an issue of irritation and itching in my eyes for a very long time. But I always ignored it. One day during my normal eye check-up I come to know that I am suffering from the problem of dry eyes syndrome.
This made me very scared. My doctor suggested Cyclosporine eye drops as it is an effective solution to this problem. I got completely rid of the dryness in my eyes. I am happy with the results of the medication.
Allen Jeff, United States
My eyesight was always excellent and I never needed spectacles in my life. One day suddenly my doctor told me that there is a development of high pressure in my eyes. If I do not treat this problem it can also damage my eyes forever. He suggested Cyclosporine eye drops. I am glad to tell you that my problem with high pressure got completely cured.