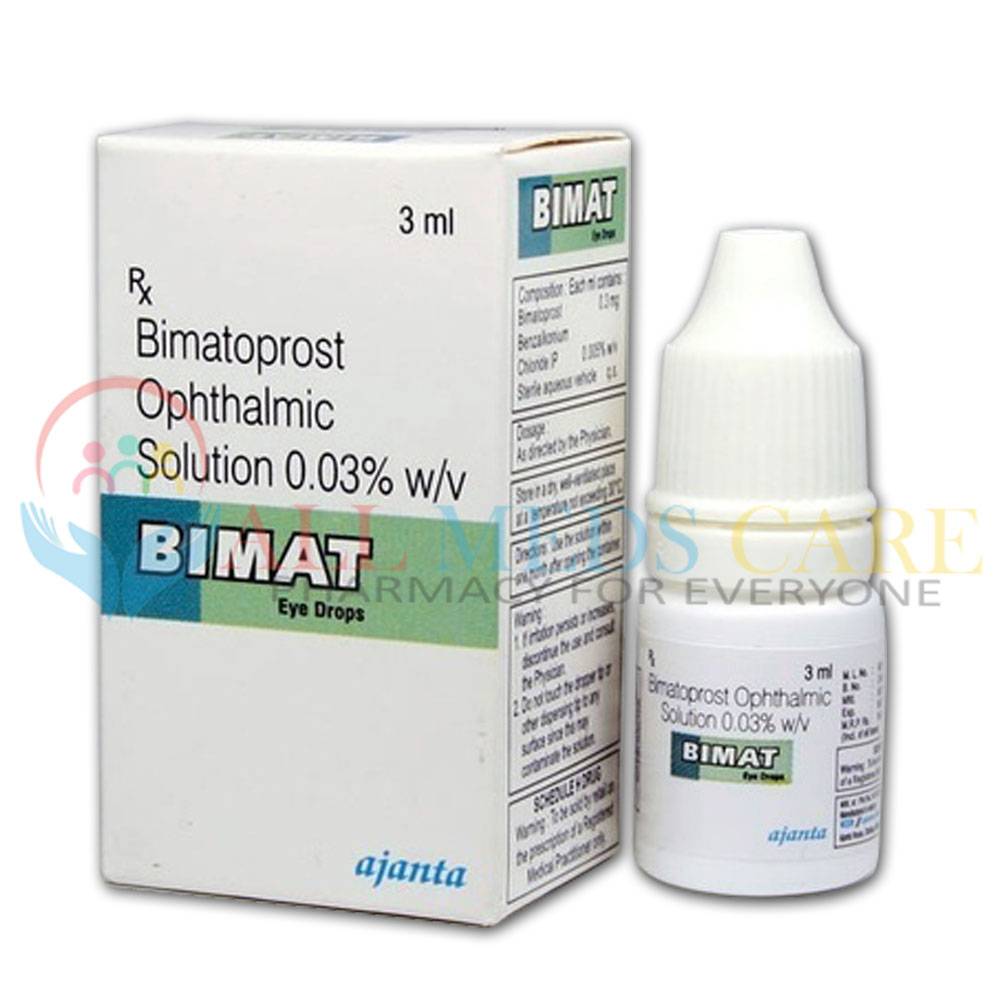 Treat Glaucoma & Eye Pressure, Buy Bimatoprost eye drops online!
Bimatoprost drops for Glaucoma are a reasonable, effective, and useful medicine that helps to overcome the problem of open angle glaucoma. Additionally, these eye drops are also used to increase the length of eye lashes and it is also used to treat ocular hypertension in adults. Patients can now buy cheap Bimatoprost Eye drops online at Allmedscare.com at discount price and solve eye problems related to glaucoma, eye pressure etc.
Bottles
Strength
Price
Price/Unit
5 Bottles (0.03 w/v, 3 ml)
3 ml

$

50.00
10
15 Bottles (0.03 w/v, 3 ml)
3 ml

$

139.00
9.27
20 Bottles (0.03 w/v, 3 ml)
3 ml

$

169.00
8.45
Description
Bimatoprost eye drops treat Glaucoma!
Glaucoma is a disorder in the eye in which the optic nerves of the eye get damaged. But, with the help of Bimatoprost eye drops, the problem in the eye gets cured effectively and easily. Generally, the issue of glaucoma is found in old people. However, it may occur in people of any age group. A person suffering from Glaucoma can experience pressure over the eye's optic nerves which results in pain and swelling in the eyes. Bimatoprost drops for Glaucoma can help overcome such problems.
Glaucoma is a very serious issue as there is an upsurge in the swelling of the eye. People find it difficult to have a clear vision. Most ophthalmologists suggest to buy bimatoprost online as these eye drops are available at very low prices online.
How does the Bimatoprost drop for Glaucoma function?
Bimatoprost is a liquid dose for the eye that is well absorbed by Cornea. Once absorbed it decreases the fluid pressure inside the eyes or reduces intraocular pressure. Once the fluid gets out of the eyes, the swelling in the eyes is reduced. The effects of this medication last for 24 hours.
Generally,  the eyes of affected patients swell due to a fluid that gets accumulated inside the eyes. This fluid is known as Aqueous humor. Without any medical intervention, it stays inside the eyeball. When drops of Bimatoprost are put in the affected eye, it decreases eye pressure by removing the aqueous humor from the eyeball.
What will happen if you miss the dose of Bimatoprost drop for Glaucoma?
It is very important to take the drug at the same time every day as the results of this medication usually last for 24 hours. But if somehow you forget to use the Bimatoprost drop for Glaucoma, use it as soon as you come to know. If the time of taking the dose has reached the next dose time, skip this dose and have the next dose as scheduled. You should not take the two doses together.
What will happen if accidentally I have taken overdose on Bimatoprost?
If accidentally you have taken the overdose on Bimatoprost, get medical aid if necessary. Or else gently and quickly rinse your eyes with plain water. Washing and Rinsing quickly should fix the issue.
What is the best way to store Bimatoprost?
After you buy Bimatoprost online from Allmedscare.com, You should store these eye drops at room temperature which must range between 15°C to 30°C. The bottle of eye drops must be stored in a place that is far away from light, heat and moisture.
You should use an airtight container for keeping the bottle. The place of storage should be cool and dark. Once the medication reaches the expiration date, do not forget to discard them immediately.
Dosage
What is the best way to use Bimatoprost?
The suggested dose of Bimatoprost is a single drop inside the affected eye(s). It is a regular-use medication. If you use the Bimatoprost eye drops along with some other eye drops then, there should be a gap of at least 5 minutes between the two medications.
You should also wash your hands before dropping the medication in your eyes. Do not touch the bottle's lid to avoid any contamination issues.
Always tilt your head in an upward direction while dropping the eye drops in your eyes. After putting the eye drops for Glaucoma keep your eyes closed for at least 2 to 3 minutes. Do not try to rub or touch your eye during that duration.
Bimatoprost should be taken once daily and should be used at the same time every day. The best time for using the drops is evening time. It is a best practice to use the dose as prescribed by the physician. For best results, follow the instructions given on the medication leaflet.
Precautions
Precautions to follow after you buy Bimatoprost Eye Drops online?
Below are a few safety measures you should follow while using the eye drops of Bimatoprost:
If you see any allergic signs while using the Bimatoprost eye drops, stop using the eye drops and consult your ophthalmologist immediately.
You should undergo regular check-ups from your ophthalmologist while making use of the Bimatoprost eye drops.
Your ophthalmologist should be informed about all the medicines that you are taking along with the eye drops.
During the use of Bimatoprost eye care drops if you come across any kind of eye issue, instantly see your physician.
If a person is using contact lenses it is better to remove them before using Bimatoprost eye drops. It is important to maintain a gap of 15 minutes between removing the contact lenses and using these eyedrops for Glaucoma treatment.
You may experience blurry vision after using the eye drops. Therefore, it is better not to indulge in any kind of work that needs a clear vision, attention and concentration.
Use of Bimatoprost during pregnancy or breastfeeding is generally not recommended. The drug belongs to pregnancy category B3. Certain Animal studies have shown increased evidence of fetal damage, although the significance of these studies is uncertain in humans.
Side Effects & Warnings
Side Effects of Bimatoprost Eye Drops!
What are the common side effects of taking drops for Glaucoma?
There may be a few minor side effects with the use of these eye drops for treating Glaucoma. The following are some minor side effects of Bimatoprost:
Cough
Ear congestion, difficulty with breathing
Loss of voice, Headache
Redness of the white part of the eyes or inside of the eyelids
Nasal congestion
Sneezing, runny nose
Unusual tiredness or weakness, sore throat
Eye discharge or excessive tearing, Darkening of the eyelashes
The feeling of having something in the eye
Eye strain increases the sensitivity of the eyes to sunlight
Increase in hair growth
What are the severe side effects of taking Bimatoprost?
Bimatoprost is a very safe medication. The side effects are rare and generally do not appear in people if used as per the ophthalmologist's guidance. Although, these have not been reported by any of the patients however it is wise to know about serious side effects too. In extremely rare cases, if you do not use this medication according to your doctor's guidance, there is a high chance you may face some serious side effects. Some serious side effects include:
Blindness.
Blurred or reduced vision, bloody eye.
Color variations in the skin nearby the eyes.
Alteration in color vision.
Troubled color perception, trouble seeing at night.
Dry eyes, double vision, fever or chills, eye color variations.
Lack or loss of strength, halos nearby lights, night blindness, loss of vision.
Redness, burning, dry, or itching eyes.
The over-bright appearance of lights.
Tunnel vision, redness, discomfort, inflammation of the eye, eyelid, or internal lining of the eyelid.
Note:  If you experience any of the above issues that stay for a longer time than usual, immediately see your ophthalmologist for further assistance.
FAQ's
Questions customers ask before they buy Bimatoprost Drops Online!
How frequently should I use these drops for Glaucoma treatment?
The frequency of the eye drops varies with the severity of the problem in the patient's eye(s). Thus, the number of drops also varies from patient to patient. We would recommend asking your ophthalmologist properly about the eye drops frequency.
What is the main benefit of using these drops for Glaucoma?
It is a drug that is used to overcome the problem of increased pressure inside the eyes, ocular hypertension, and open-angle glaucoma.
How much time does the drug take to act?
The medication should be used until the time; the problem of the eyes is cured completely. It is better to use it in the way prescribed by ophthalmologists. If you take it for a longer time without consulting your ophthalmologist, it can impact your eye health severely.
How to store these Glaucoma drops?
There are certain salts in the medication that remain active under specific room temperatures. So, storing Bimatoprost below or above room temperature can impact its's efficacy. You should keep it away from light and moisture.
What should I inform my ophthalmologist?
You should inform your ophthalmologist if you are allergic to any medicine, food, or any other item.
Are there any medications that interact with Bimatoprost Eye Drops?
Few drugs can interact with Bimatoprost eye drops. Therefore, before using the eye drops you should inform your ophthalmologist about all the herbal drugs, nonprescription drugs, prescription drugs, or vitamins that you are already having or any ongoing prescriptions.
Customer Testimonials
Bimatoprost Reviews By Our Customers
Kenneth Jackson, USA
I am 80 years old and recently I feel an unexpected increase in pressure in my eyes. With the use of Bimatoprost one drop daily, the pressure in my eyes got reduced without any discomfort or side effects.
Paul White, USA
The medication works incredibly for open-angle glaucoma in my eyes. Moreover, it is a pocket-friendly medication. I am completely satisfied with its results.