Sale!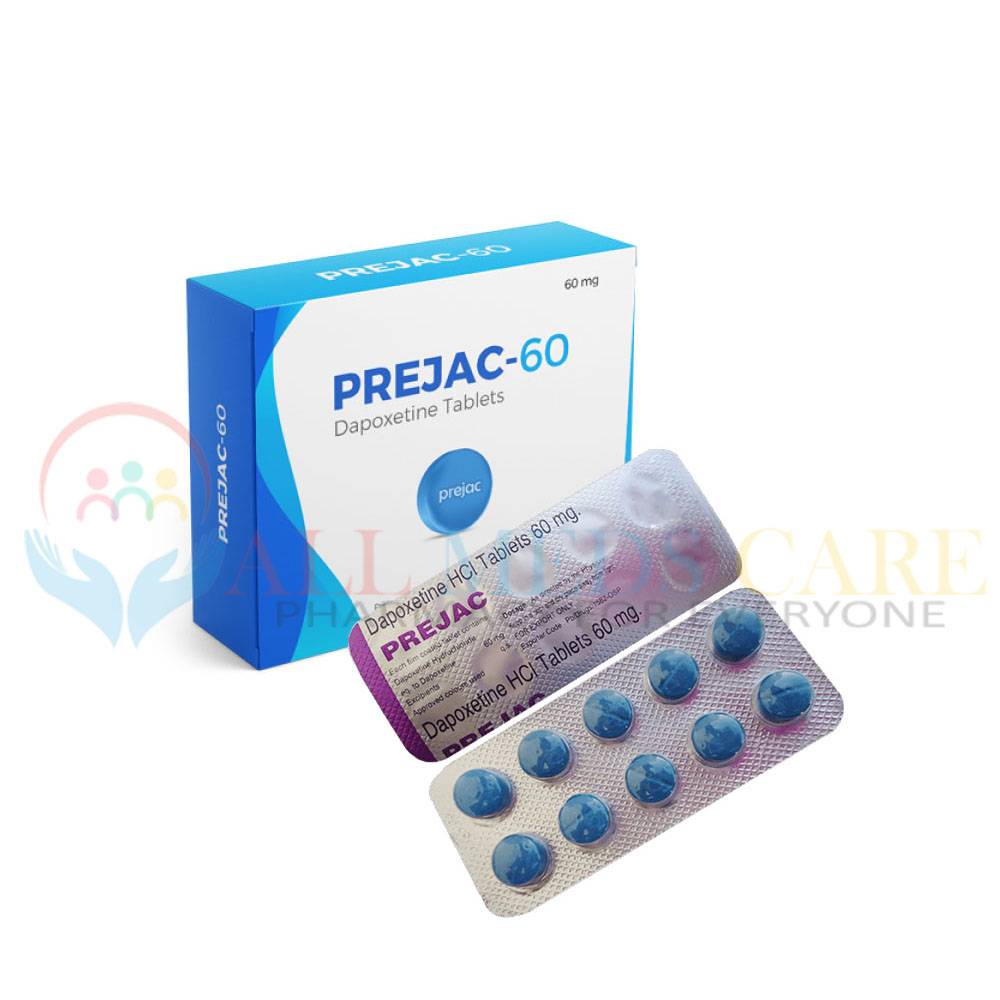 Buy Prejac 60mg, treat premature ejaculation
Prejac 60mg is a medication prescribed for treating the problem of premature ejaculation in adult men. It increases the time of ejaculation during the sexual act. Hence, Men are able to last longer and control better result in a health performance during the sexual activity. Allmedscare.com offers authentic Prejac tablets online at lowest price!
| Pills | Strength | Price | Price/Unit | |
| --- | --- | --- | --- | --- |
| 60 Pills | 60 mg | | 0.93 | |
| 120 Pills | 60 mg | | 0.68 | |
| 180 Pills | 60 mg | | 0.50 | |
| 300 Pills | 60 mg | | 0.42 | |
Description
Introduction to Prejac 60mg
The main purpose of Prejac 60mg is to delay the process the ejaculation and the main ingredient is Dapoxetine. Men are able to perform better during the activity to the fullest after consuming this tablet. This medication acts quickly and this makes it the first choice of many men suffering from quick ejaculation. As a result, more and more men buy Prejac 60mg online.
A pill of Prejac may be consumed with or without food. You can have this medication for 1 to 3 hours before participating in a sexual relationship. Men having a medical history of depression, seizures, and other psychiatric ailments should consume this medication with proper precaution and under strict medical supervision. It is extremely important to notify your physician if you are having medical history related to kidney, heart, or liver ailments.
Note: Before you buy a pill of Prejac 60mg, you must inform your physician if you are suffering from diabetes, epilepsy, kidney or liver disease, glaucoma, heart problems, bipolar disorder, or drug addiction.
This medication is not indicated for female patients. Breastfeeding or pregnant females should not consume Prejac tablets.
Prejac 60mg is generally a very safe medication for male use however some men may experience minor side effects from this medication. Some of these side effects are vomiting, headache, dry mouth, and nausea. Initially, consumption of this medication may result in an unexpected fall in blood pressure while you alter positions. Therefore, it is good to rise gradually if you are lying down or sitting. It may also cause sleepiness and dizziness, therefore it is best not to drive or perform any activity that needs psychological attention and strength.
How exactly Prejac works?
Prejac more specifically Dapoxetine, is a serotonin transporter(SERT or 5-HTT) inhibitor. The serotonin transporter is also known as sodium-dependent serotonin transporter and solute carrier family 6 members 4. It is a protein found in humans and encoded by the SLC6A4 gene. SERT is a type of monoamine transporter protein that transports the neurotransmitter serotonin from the synaptic cleft back to the presynaptic neuron, in a process known as serotonin reuptake. This transport of serotonin by the SERT protein terminates the action of serotonin and recycles it in a sodium-dependent manner.
The SERT or 5-HTT inhibitor action of Prejac 60mg tablet results in increasing serotonin's action at the postsynaptic cleft. This promotes ejaculatory delay during sexual activity. Dapoxetine was initially created as an antidepressant as it belongs to the selective serotonin reuptake inhibitor (SSRI) family. Dapoxetine present in Prejac is readily absorbed and eliminated from the human body. This fast-acting property of Prejac 60mg (Dapoxetine) makes it a perfect medication for the treatment of Premature Ejaculation more than its initial intended use as an anti-depressant.
Benefits of Prejac Tablets
Helps On Releasing Stress: A man suffering from premature ejaculation usually has low self-confidence and low self-esteem. However, with Prejac, a man can have strong control over ejaculation. When you buy Prejac 60mg, you should keep in mind that the results of this medication are temporary. This medication solves the premature ejaculation problem of men to a major extent.  Men are able to perform better without having the fear of ejaculating prematurely. This helps men to attain the full benefits of a healthy sexual life.
Long-Lasting Erections with Delayed Ejaculation: Prejac 60mg pill enhances the ejaculation process. It mainly delays the process and men are able to perform better for a longer duration of time without having fear of ejaculation.
Qualities Similar To Branded Drugs:  Prejac 60mg contains the same active ingredient i.e Dapoxetine, as found in the branded medication Priligy®. It works in a similar manner as the OEM drug.
Increases Endurance: In addition to treating premature ejaculation it enhances the ability of men to perform for longer duration without ejaculating. In males, Ejaculation is a phenomenon that is accompanied by the climax. Premature ejaculation results in pre-climax without actual sexual satisfaction. Longer climax periods result in proper satisfaction to not only males but their partners as well.
Dosage
What is the right dosage of Prejac?
Prejac (Dapoxetine) pills are available in many strengths. The most recommended dosage is 60 mg per day. Your physician/doctor will prescribe the right dosage of Prejac after assessing your condition. You can buy Prejac 60mg online at Allmedscare.com and consume it as per the advice of your physician. It can be taken in oral form with a glass of water. You should never crush or chew the tablet. The pill will only work if the man is sexually aroused. A single pill is recommended in 24 hours. The tablet must be taken 30 minutes before taking part in the sexual act.
What happens if you forget to take the Prejac tablet?
Treatment of Premature Ejaculation
While treating premature ejaculation, it is advised to consume this medication only when required.  The dose of this medication should not be altered without advice from a doctor/physician or a pharmacist. The tablet should be consumed at least 30-60 minutes before the sexual activity. Results may vary from person to person.  If you forget to take the dose of the Prejac tablet then, have it as soon as possible. But, don't take it if it is time for your next dosage. The dosage of the pill should never be doubled.
Treatment of Depression/Stress
It is advised to consume this medication strictly as advised by a doctor/physician. A person should not self-prescribe this medication as it can be fatal to health. In case you miss the dose, it is advised to consume it as soon as you recall it. You can consume the next dose as per schedule. Avoid consuming the missed dose if the time is time is nearer to the time of the next dosage. There should be a span of at least 12 hours between two consecutive doses. A double dosage of this medication is prohibited.
Precautions
What are the precautions that you have to take while consuming Prejac?
The following are the few precautions that you should take while consuming Prejac:
You should avoid the consumption of Prejac in case you are consuming medications rich in nitrates, for the pain in the chest.
This medication is for adult men up to the age of 64. Men aged more than 64 must consult a physician before consuming this medication.
It is advised to avoid smoking and alcohol completely, for the duration this medication remains active inside your body i.e for a period of 24 hours starting the most recent dose.
Prejac may interact with other medications such as antidepressants, blood thinners, and medicine taken for kidney or liver conditions. Therefore, it is a best practice to consume this medication only after taking a prescription from a physician. It should not be used by those who are prone to excessive dehydration.
This medication will not help you against STDs (sexually transmitted diseases). Therefore, the use of this medication for HIV treatment is strictly prohibited.
It is best not to perform any heavy work after taking this tablet as it is known to cause blurred vision or dizziness.
Prejac is meant for men who are suffering from PE (Premature Ejaculation) for at least 6 months. Premature ejaculation refers to a condition where a man ejaculates within 2 minutes of penetration.
The tablet should not be consumed by men who have heart disease and have issues related to blood clotting.
Side Effects & Warnings
Side Effects of the Prejac 
The most common side effects that may appear after consuming a pill of Prejac 60mg are Dizziness, Headache, Nausea, Vomiting, Dryness in the mouth, blurry eyes, difficulty in vision, temporary hearing loss, rashes, body pains, pain in the abdomen, etc. These side-effects are minor and gradually sub-side with the passage of time.
Some people may experience critical side effects such as irregular heart rate, fluctuations in blood pressure, severe chest pain ( angina), no ejaculation at all even after climax, etc. In these cases, it is advised to seek urgent medical help. A physician will assess the situation and will manage it as per merits.
FAQ's
Most common questions before our customers buy Prejac 60mg Online
Does Prejac help in curing premature ejaculation?
Prejac is utilized for treating the problem of premature ejaculation in men aged between 18 years to 64 years. It is not a permanent cure but a temporary solution. The problem of premature ejaculation occurs when a man ejaculates without any sexual arousal or desire. Premature ejaculation has affected life's of many men negatively.
How to use the Prejac tablet?
You can have the dose of this medicine as prescribed by your doctor. You should swallow this tablet as a  whole. Do not crush, chew or break it. The medicine can be taken with or without food. It can be consumed with or without water.
Do you need a prescription for buying Prejac?
Yes, you can buy Prejac online and offline from a pharmacy however you would need a  prescription for buying the Prejac drug.
What does the Prejac do actually?
Prejac delays ejaculation and in some cases it may also help in improving the performance and satisfaction level of men. A tablet of Prejac 60mg actually improves the ability to sustain for a longer time.
Is it safe to consume Prejac?
Prejac is a safe medication that you can consume for treating ejaculation-related issues. It is consumed on your doctor's advice.
How does the Prejac tablet works?
The tablet of Prejac is an SSRI (selective serotonin reuptake inhibitor) that upsurges the serotonin level inside the nerves. Increased levels of serotonin delay ejaculation. Prejac 60mg helps men to have enough control over their ejaculation such that they are able to perform better for longer durations. It is a possible and proven solution to the premature ejaculation problem of men.
Can the use of this medicine be done with other ED medicine?
Well if a person is suffering from ED and premature ejaculation at the same time. In such cases, it is better to use medication like Super P Force 160mg or Tadapox. A tablet of Super P Force contains Sildenafil citrate and Dapoxetine. Tadapox is a combination of Tadalafil and Dapoxetine. Sildenafil Citrate and Tadalafil are proven treatments for erectile dysfunction whereas Dapoxetine treats Premature ejaculation issues. Both these medications are a proven remedies for treating both these sexual challenges temporarily. If you want to buy Super P Force 160mg, you can visit Allmedscare.com. Tadapox 80mg is available at Allmedscare.com.
Customer Testimonials
What do our customers say after they buy and use Prejac 60mg?
Robert Stewart, AZ – USA
Prejac helped me to deal with early ejaculation problems. Now I feel good and stay longer. My partner is happy too. Thank you allmedscare.com for providing good quality Prejac drugs and the fastest shipping.
Mike Downey, NY – USA
I was searching on the internet about Premature ejaculation problems and I found allmedscare.com. I ordered Prejac and got pills for 15 days. I used this medication and found it very effective. I am happy with the medication. My order arrived on time and in a secure manner. Thank you allmedscare.com for your service.