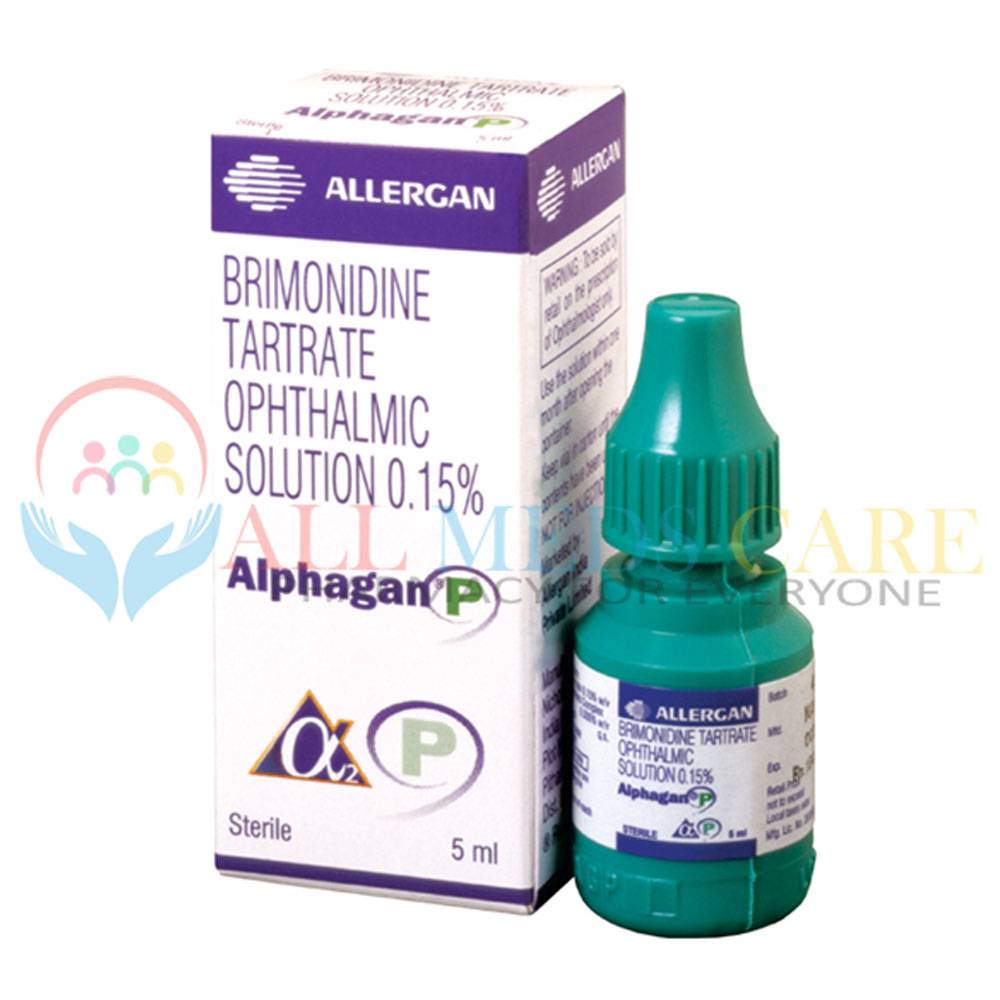 Buy Alphagan P Eyedrops online, Treat Glaucoma
Alphagan P Eyedrops is a prescribed eye drop to treat open-angle glaucoma or high fluid pressure in the eye. These Eye Drops for Glaucoma treatment are recognized for their cost-effective and high-efficiency nature. This medication is a proven remedy hence most physicians suggest to buy Alphagan P Eye Drops online. It helps in reducing eye pressure problems caused due to Glaucoma. These eye drops are available at Allmedscare.com at lowest price with free doorstep delivery.
Bottles
Strength
Price
Price/Unit
5 Bottles (0.15% / 5 ml)
5 ml

$

53.00
10.60
15 Bottles (0.15% / 5 ml)
5 ml

$

146.00
9.73
20 Bottles (0.15% / 5 ml)
5 ml

$

187.00
9.35
Description
Alphagan P Eye Drops (Brimonidine Tartrate Eye Drops)- Treatment for Glaucoma
Using Alphagan P (Brimonidine Tartrate Eye Drops) helps in treating glaucoma in a very easy way. Treating Glaucoma on time is really very important. If not treated on time, it can damage the optic nerves of the eyes forever causing permanent loss of vision in the patient. People of age groups can buy Alphagan P Eye Drops Online. This eye drops mainly benefit in releasing the gathered aqueous humor between the retina and eye lens. It is advisable to have Alphagan P (Brimonidine Tartrate Eye Drops) as per the doctor's suggestion.
A patient needs a prescription to buy Alphagan P (Brimonidine Tartrate Eye Drops) online from a pharmacy. Taking eye drops without a doctor's supervision can harm your health. Patients who are allergic to Brimonidine Tartrate can use Bimatoprost Eye Drops as an alternative treatment.
Let's first look at what is Glaucoma!
Damage to the optic nerves leads to Glaucoma. Optic nerves play a major role in visibility. It sends visual information from the eye to the brain. In the case of Glaucoma damage to optic nerves increases fluid called aqueous humour in the eye. This leads to an increase in the pressure on the eye creating visibility challenges. Untreated high eye pressure can lead to permanent vision loss. Hence it is very important to bring down the eye pressure to normal.
How do these Alphagan P Eye Drops for Glaucoma
function?
Alphagan P Eye Drops consist of an active ingredient known as Brimonidine Tartrate. This category of eye drops belongs to a class of alpha-adrenergic agonists. Such types of eye drops are often combined with other medications to lower "high eye pressure".
During the problem of Glaucoma, the fluid called aqueous humour increases the pressure in the eyes. It becomes important to remove the fluid from the eyeball.
In any such occurrence, the Alphagan P Eye drops help in eradicating the fluid from the eyes. After the discharge of aqueous humor, the eye is able to maintain pressure back to normal.
Some people can feel common side effects like pain in the eyes or swelling in the eyes during the treatment. But all goes well as time passes with the improvement in the condition of the eyes.
Are there any medications that interact with Alphagan P?
Alphagan P eye drops for Glaucoma create a reaction with a few drugs. Thus, while taking a consultation with your doctor, you are advised to inform him about all the drugs that you are already taking.
Your doctor will tell you whether you can take a particular drug or not. During the diagnosis of glaucoma, inform your doctor about herbal supplements, prescription drugs, vitamins, and non-prescription drugs that you are already consuming. All such information will help your doctor in prescribing the right dosage of the drug so that you get a cure soon.
Dosage
What is the best way to use Alphagan P?
You should take the dose of Alphagan P Eye Drops as prescribed by the doctor. You should not make any changes in the doses on your own. Your doctor will suggest the number of drops that you need to put in one eye or both eyes. The medicine is recommended to be used daily during the evening period. But do not forget to use it at the same time every day.
If you are using other eye drops besides the Alphagan P Eye Drops, keep a gap of at least 5 minutes between the two medications.
Before using the medication, do not forget to wash your hands thoroughly. The lid of the eyedropper should not be touched at all. While putting the drops in your eyes, look in the upward direction.
Do not forget to close your eyes for at least 2 minutes after putting the drops. Moreover, rubbing your eyes after using the drug is also not suggested.
Precautions
What precautions to take when you buy Alphagan P Eye Drops for Glaucoma?
The following are a few safety measures that you need to keep in mind while purchasing and using the Alphagan P Eye drops:
If you are having an allergy to Brimonidine Tartrate, you might have to face some side effects of the medication. Therefore, it is strictly advised to consult an ophthalmologist before you buy Brimonidine Tartrate Eye Drops online.
Go for a regular check-up of your eyes while treating Glaucoma with Alphagan P Eye Drops online.
In case of any unwanted consequences of the drug, contact your doctor as soon as possible.
You should not use the Brimonidine Tartrate eye drops (Alphagan P Eye Drops) while wearing contact lenses. The drops should be applied after 15 minutes to 20 minutes of removing the contact lenses.
Dizziness and blurred vision are common when using these eye drops. Therefore, it is advisable to take rest for some time after applying the medication. Activities that require concentration and clear vision should be postponed for some time.
It is advised not to touch the bottleneck with bare hands in order to avoid any contamination issues.
Side Effects & Warnings
Side Effects of Alphagan P eye drops
You should not worry much about the common side effects of Alphagan P eye drops. The medication is quite safe to use and most of the side effects subside without getting any medical aid. These side effects are very mild and hence last for a very short time.
The following are the mild side effects of eye drops:
Giddiness
Discomfort in eyes
Pain in the head
Dizziness
Watery eyes
Dry eyes
Burning sensation in the eyes
NOTE: If these common side effects stay for a longer time then, you should consult your doctor for advice.
What are the severe side effects of using the Tartrate Eye Drops for Glaucoma?
If not used as advised, the Alphagan P Eye Drops may result in some severe complications. Some patients do not use this medication in a correct manner which lands them to experience serious side effects.
So, it is very important to follow all the guidelines and safety measures informed by your ophthalmologist while using Alphagan P eye drops.
Side effects such as inflammation in body parts like the face, tongue, and throat, Breathing difficulty, discomfort in eyes, severe itching in eyes, increased light sensitivity, eye discharge, and vision difficulties may occur.
NOTE: If you face any of these severe side effects, immediately get medical aid from your ophthalmologist to avoid any further complications.
FAQ's
Questions customers ask before they buy Alphagan P Online!
What is the best way to store the Alphagan P Eye Drops?
After you buy Alphagan P eye drops, you should store them at a temperature ranging between 15°C to 30°C. Generally, room temperature of best to store these eye drops. High temperatures can harm the effectiveness of the drug. So avoid keeping it in bright, hot, or moist places like the kitchen or bathroom.
What kind of people can make use of Alphagan P?
Well! Any person suffering from Glaucoma can use Alphagan P eye drops. If the patient is using any other medication for the eyes, it's better to inform the doctor and pharmacist about it in advance.
Who should not use Alphagan P eye drops?
Alphagan P eye drops are not recommended for people who are suffering from the health ailments like difficulty in breathing, dry eye condition, have undergone a cataract surgical procedure recently, injured cornea, watery eyes, etc. Such people should always inform their doctor about their medical history before asking for treatment for glaucoma. An ophthalmologist will assess your condition and will recommend you buy Alphagan P eye drops online.
What are the guidelines in case dosage is missed?
A patient should be particular about the prescription schedule. Missing the dose a few times is acceptable. For treating Glaucoma effectively with Alphagan P Eye drops, a proper medication schedule should be followed.
You should put the eye drops daily at the same time. If you forget to put the drops in your eyes, try to put them as soon as you remember. But if the time you recall the missed dose is near the next scheduled dose, just skip the missed dosage. Do not have the double dose of the eye drops as this can be a cause of concern.
What to do in case of Alphagan P overdose?
It is not that serious. Wash your eye immediately with plain water. But generally try to avoid such instances as they might damage the eyes.
Customer Testimonials
Alphagan P Eye Drops Reviews By Our Customers
Laura Parker, United States
I am a 55 years old woman living a healthy life. But a few days back, I was diagnosed with the problem of glaucoma in my eyes. I was not able to see things clearly through my eyes. At first, I thought it could be a sign of getting older but when I started facing more vision issues then, I consulted my doctor.
After diagnosing glaucoma, he suggested I should use Alphagan P eye drops in my eyes. Soon I got to see the results of the medication, my vision improved.
Daniel White, United States
Using Alphagan P eye drops has helped in lowering the high fluid pressure in my eye. My doctor told me that this high pressure can also damage my eye nerves.
But now, with the help of these magical eye drops, the fluid quantity in my eye has reduced, and now my eyes are completely safe to see the whole world. Thanks a ton to this Allmedscare.com where I could buy Alphagan P Eyedrops online for my Glaucoma treatment at an affordable price. They delivered it to my home.