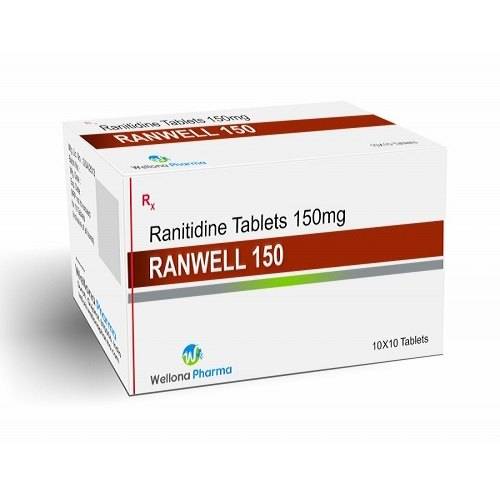 Buy Generic Zantac
Generic Zantac is a medication that is used for reducing in stomach acids. The tablets should be consumed at least 30 minutes before taking food. Generic Zantac also treats the problem of heart burn and acid ingestion.
Warning: Generic Zantac has been withdrawn from United States. The content present on this page are for informational purpose only.
NOTE: Patient's looking to buy alternative equivalent medication can contact Allmedscare.com customer service team.
| Pills | Strength | Price | Price/Unit | |
| --- | --- | --- | --- | --- |
Description
Introduction to Generic Zantac
Medical conditions such as stomach and intestinal ulcers, acid formation in the stomach, and GERD (gastroesophageal reflux) are common. An unhealthy lifestyle and unhygienic food intake are the main reasons for such illnesses. In such cases, one can always prefer to buy Generic Zantac for abdominal and intestinal Ulcer treatment.
Moreover, it also cures the esophagus lining damage owing to acid formation. One can buy Generic Zantac for abdominal and intestinal Ulcer in various forms starting from capsules, injectable solutions, tablets, and syrup.
How to use this medication for abdominal and intestinal Ulcers
Generic Zantac can treat the following health abnormalities:
Gastroesophageal reflux disease (GERD)
Abdominal and intestinal ulcers
Excessive acid formation in the stomach is a sign of Zollinger-Ellison syndrome
Erosive esophagitis
It might be used as a fragment of the combination remedy. It means that you may have to consume it along with the other drugs. Generic Zantac is mainly used in the treatment of GERD for the short-term period. But, in case of other conditions, you might have to use it for the long term like weeks to months.
How does this medication work?
Generic Zantac belongs to a category of drugs known as histamine receptor antagonists. All the drugs belonging to this category work in the same way for curing similar disorders. The drug functions by decreasing the quantity of acid inside the stomach.
What are some side effects of overdose?
An overdose of the medication can increase the level of the drug inside the body causing health damage. In such a case, you should seek medical help immediately. The symptoms of the generic Zantac overdose consist of:
Low blood pressure
Faintness
Dizziness
Problem in walking
Quick Tip: This medication can be taken with or without food. Moreover, you can crush or cut the tablet. Don't forget to store it carefully in a room having a temperature between 59 degrees F to 86 degrees F. Keep it far from direct sunlight. The place where you store it should not be damp or moist.
Dosage
Best way to take Generic Zantac
The amount of generic Zantac dosage depends on the patient's problem, age, condition severity, other medical problems, and your body's reaction to the first dose. To avoid any type of risk, take the dose of the drug as per the doctor's direction. It might be used for the short term or long term. Do not stop the drug without your doctor's consent as this can worsen your condition.
Generic Zantac should be taken on time without missing the dose. Only then it will make the drug work properly with a positive outcome on health. In case if you miss the dose, take it as soon as you come to know. Do not consume two doses together as this can cause severe side effects.
Precautions
Interaction of Generic Zantac with other drugs
Generic Zantac can interact with the other drugs, herbs, and vitamins that you might be consuming. During the interaction, the working of the drug gets affected which can be harmful to the health sometimes. Thus, to evade such a situation you should inform your doctor about all the medicines that you are consuming. So that he/she can analyse your condition well and make necessary changes in the dosage.
The following medications interact with the generic Zantac and can result in severe side effects:
Delavirdine
Procainamide
Warfarin
Midazolam and triazolam
Glipizide
Atazanavir
Gefitinib
There may be some other drugs also that can interact with the generic Zantac. Different drug combinations show different reactions in different individuals based on various factors.  Therefore, having a word with your doctor regarding all the medicines you take, is the best idea to get safe from harmful interactions.
Side Effects & Warnings
Side effects of the Generic Zantac
The side effects of the drug are usually very mild and vanish on their own after some time. But in case of their severity, you must inform your doctor. Below are some common side effects of the Generic Zantac:
constipation
headache
nausea and vomiting
diarrhoea
abdominal uneasiness or pain
Besides the above side effects, there are some serious side effects of Generic Zantac which can be life-threatening. In such cases, you should seek medical help as soon as possible. The serious side effects of the generic Zantac are as follows:
Swelling of the liver (signs like tiredness, stomach pain, yellowing of your skin or the whites of your eyes and dark urine)
Alterations in the functioning of the brain (with signs like agitation, confusion, hallucinations, depression and blurry visions)
Unusual heart rate (with signs like tiredness, fast heart rate and shortness of breath)
FAQ's
Questions customers ask before they buy generic Zantac on Allmedscare.com!
Does generic Zantac come under the category of an antacid drug?
No, Generic Zantac does not come under the category of Antacid drugs. It works by decreasing the quantity of acid that is forming in your stomach. On the other hand, Antacid functions by neutralizing the acid that is already built in your stomach.
I am taking the generic Zantac 150 mg two times a day. What type of diet I should have along with it?
Generic Zantac can be taken without following any special diet. But you should avoid the intake of alcohol to avoid possibility of stomach damage. People suffering from GERD or ulcers issue should not consume the foods that bothers them. In addition to this, your doctor can guide you better about the best suitable diet.
I am suffering from COPD. My doctor suggests two 75 mg doses of the Generic Zantac at bedtime. Moreover, I am also taking Vytorin. So please tell me whether I can take these drugs together or not.
You should always inform your doctor about all the medications that you are taking along with the Generic Zantac. However, there is no supporting studies that prove interaction of Vytorin with Zantac. However still to have more clarification, please ask your doctor.
Does Generic Zantac cause hair loss?
There are very less patients who face hair loss issues while taking this drug. But if you face this issue, inform your doctor immediately. He/she might prescribe you some alternative medicine to manage your condition.
Can I take the Zantac in my 4 weeks of pregnancy term for curing the problem of severe GERD?
Generic Zantac is considered as a safe medication. Although this medication is known not to cause any harm to the foetus/foetuses inside the womb. However, you should only consume this medication on recommendation of doctor in order to avoid any problems in the future.
Customer Testimonials
Generic Zantac Reviews By Our Customers
John Smith, USA
I am suffering from a severe GERD problem for the past several years. There are so many drugs that I have tried. But all of them increase the problem of constipation in my body. Going for the generic Zantac was the best decision. I take a 150 mg dose two times a day. I have not faced any type of side effect while taking it.
Paul Zenith, USA
It is an incredible medication that treated my problem of indigestion. I would recommend generic Zantac to all the people who have tried all other remedies and have not found any relief.