Sale!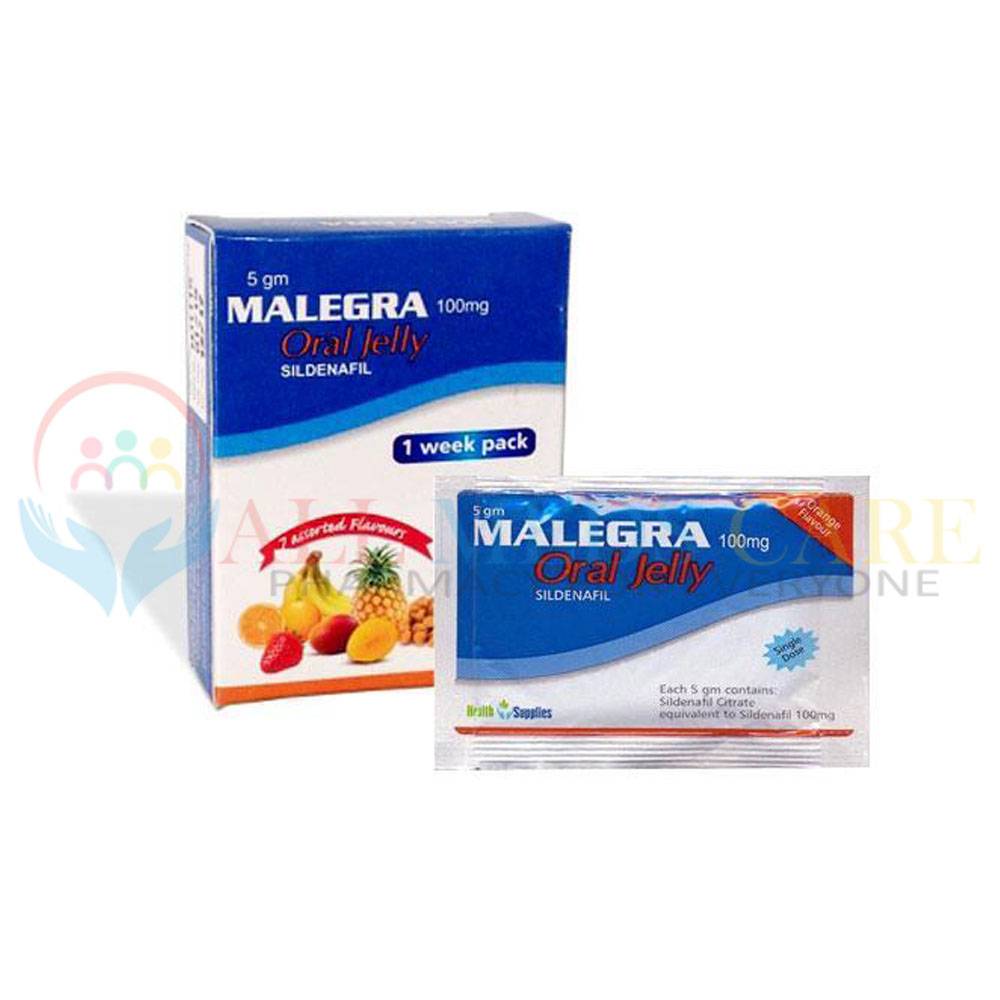 Buy Sildenafil Oral Jelly for ED treatment
Sildenafil Oral Jelly 100mg  is a medication just like Viagra®. As the name suggests, this medicine is in the form of jelly and it is available in the market as a pouch. It is because of this fact  that most men buy Sildenafil Oral Jelly 100mg online than regular hard tablets.
| Sachets | Strength | Price | Price/Unit | |
| --- | --- | --- | --- | --- |
| 15 Sachets | 100 mg | | 1.27 | |
| 30 Sachets | 100 mg | | 1.23 | |
| 45 Sachets | 100 mg | | 1.09 | |
| 60 Sachets | 100 mg | | 1.03 | |
Description
Why should you buy Sildenafil Oral Jelly 100mg?
Sildenafil Oral Jelly 100mg is developed for treating the problem of ED (erectile dysfunction) in men. The main component of this medication is sildenafil citrate. It increases the flow of blood in the direction of the penile area. This medication helps a man to participate in a sexual act efficiently for a long time. Sildenafil Oral Jelly 100mg is for men who find it difficult to consume regular hard tablets. A pouch of 100mg of Sildenafil Oral Jelly is equivalent to 100mg of a regular tablet. This medication is available in sachets and it acts quickly soon after consumption.
General Information about Sildenafil Oral Jelly
Sildenafil Oral Jelly 100mg is an effective medication. In addition to pleasant taste, it improves the ability to perform potently for a longer period of time. This medication has become a revolution for men who suffered from Erectile dysfunction. It is for those who were not able to perform during intercourse and had affected sexual life. There are many medications that contain sildenafil citrate however Sildenafil Oral Jelly has become popular in a short span of time.
There are so many men that belong to different age groups who face sexual difficulties in their life. The problem of ED may occur due to a number of reasons such as psychological issues, a bad environment, excessive fatigue, depression, and maybe phycological issues.
Studies reveal; When a man gets at least one fragile erection during sexual intercourse, it is the beginning of the problem of erectile dysfunction. This nasty occurrence is also entitled a sexual system ailment (impotence).
Most of us will acknowledge the fact that impotence is a difficult time for an affected man. Many men make a lot of effort, they search content online and offline related to their erectile dysfunction issue. Generally, men do not reveal their erectile dysfunction issues as they feel ashamed. Realizing the problem is also one of the main constraints that the problem of erectile dysfunction remains neglected. The best way to overcome this issue is to treat the ailment judiciously and with proper knowledge. Many physicians recommend to buy Sildenafil Citrate oral jelly 100mg as it is the most effective treatment available in the market.
Composition of the Sildenafil Oral Jelly
The key component of the Sildenafil Oral Jelly 100mg is Sildenafil citrate. The other ingredients include calcium hydrogen phosphate, crystalline cellulose, and magnesium stearate.
Normally during sexual intercourse, a cardiac system is accountable for blood flow toward the male vascular system genital organs. The moment the blood fills up the veins in the penile region, the penile organ enlarges and this leads to a robust and lengthy erection. Sildenafil Oral Jelly improves the male condition by working on erectile dysfunction.
How does Sildenafil Oral Jelly work?
Erectile dysfunction occurs when a male body is producing more PDE-5 enzymes than usual. This medication inhibits the formation of PDE-5 in the male body which encourages enough production of the cGMP enzyme (an enzyme mainly responsible for adequate blood flow in the penile region). As a result of the increased blood flow, men are able to attain the desired level of erection for a particular period of time. It should be noted that Sildenafil Citrate Oral Jelly is not a permanent cure for erection problems. It is just a temporary treatment for male erectile dysfunction.
As stated; When the man is sexually aroused, an enzyme called cGMP is produced. This enzyme results in increased blood flow toward the penile region. With increased blood flow, the male organ attains erections. As soon as sexual intercourse is completed, an enzyme called PDE5 is released inside the body of the man that contracts the veins. This regulates the blood flow to the penile region and the male organ returns to its normal state. Production of cGMP and PDE-5 enzymes in an optimized manner is extremely important for a healthy sexual life. Excess production of the PDE-5 enzyme caused erectile dysfunction in men. Sildenafil Citrate inhibits the formation of the PDE5 enzyme and consequently, the erection turns out to be sturdier. It also eases the penis's smooth muscle and enlarges the vessels. This allows enough blood to flow into the penile region during the sexual act. Sildenafil Oral Jelly functions in a similar way as  Viagra oral jelly.
NOTE: SILDENAFIL CITRATE ORAL JELLY CAN ONLY WORK WONDERS IN MEN WHO ARE SEXUALLY AROUSED AND READY FOR THE ACT.
Who should buy Sildenafil Oral Jelly 100mg?
The following people should use the Sildenafil Oral Jelly:
The Sildenafil oral jelly should be consumed by men who are more than 18 years of age and who are facing the issue of erection during sexual acts.
People who find it difficult to swallow the pills should use this oral jelly.
People who want quick relief from their erectile dysfunction can consume Sildenafil Oral Jelly.
Men who are allergic to tadalafil, vardenafil, or avanafil-based erectile dysfunction treatments.
Interactions of the Sildenafil Oral Jelly
The Sildenafil Oral Jelly should never be used with the following medicines & items:
1) Nicorandil as well as alpha-blockers – concurrent consumption results in elevated blood pressure.
2) Nitrates: As the combination of nitrates and this medication may lead to a sudden fall in blood pressure.
3) Grapefruit: Sildenafil Oral Jelly should not be combined with grapefruit as it affects its effectiveness.
4) Itraconazole, Ketoconazole, erythromycin, linezolid, antiretroviral, and clarithromycin drugs – Sildenafil Citrate and these compounds can be a fatal combination and may cause adverse effects.
Benefits of Sildenafil Oral Jelly
There are so many benefits related to Sildenafil oral jelly 100mg:
Sildenafil oral jelly acts quite fast in comparison to the Sildenafil Citrate 100mg hard tablets. It acts fast because the ingredients readily dissolve inside the mouth.
The impact of this medication is attained within a period of 14 minutes to 20 minutes.
It is available in the easy-to-use packing that makes the product a user-friendly one.  Also, you can mix this jelly medication in any preferred beverage (excluding grapefruit juice and alcohol).
The intake of Sildenafil Citrate Oral jelly is very easy. As a result, it is especially for men who find it hard to swallow regular hard pills.
Dosage
How to use the Sildenafil Oral Jelly?
Initially, to being with, most physicians prescribe 50mg of Sildenafil citrate to men suffering from erectile dysfunction. On an everyday basis, 50 mg of sildenafil citrate is prescribed to most men. However, the dose may be increased to 100 mg by the physician suggests after assessing your condition. You should not alter your dose without consulting your physician.
Men above 60 years of age should take the Sildenafil oral jelly strictly after having a prescription from a physician. Men having heart, liver and other related disorders should follow the proper prescription schedule because of the health risks associated with unmonitored consumption of the drug. Sildenafil Citrate oral jelly 100mg should not be consumed with fatty, salty, too hot, and starchy food.
You should consume Sildenafil Oral Jelly only once a day, 30-45 minutes prior to the sexual act. The normal period of action persists for around 5 hours after its consumption.
Precautions
What are the precautions that need to follow with the Sildenafil Oral Jelly 100mg?
Before consuming this medicine, a man should know the list of probable contra-indications.
In the following conditions, a man should not consume this drug:
Uncontrolled hypo-tension / hypertension
Severe heart ailment
Inclination where a person falls unconscious regularly
Renal or hepatic inadequacy
Numerous myeloma
Pigment retinitis
Sildenafil Oral Jelly should not be consumed with medication containing the following compounds:
Organic nitrates
Specific groups of antibiotics
St. John's wort (Phyto preparation)
HIV protease inhibitors
You should also keep in mind that this medicine is not meant to be used by kids or females. Sildenafil Oral Jelly should be used with precautions in conditions related to priapism, penis deformation, severe vascular as well as heart ailments, strokes, cardiac infarction, hepatic insufficiency, severe renal and pigment retinitis, etc. So, in such cases, a consultation with your doctor is highly recommended. A physician is the best person to make you aware of drug benefits and contradictions after assessing your condition.
Side Effects & Warnings
Side Effects of Sildenafil oral jelly
The following are the minor side effects of Sildenafil Oral Jelly:
• dizziness
• headache
• weakness
• nausea
Men who experience priapism after consuming this medication should consult their physician. Some men may experience prolonged erections for more than 4 hours, and may also experience irregular heart rate, fluctuations in blood pressure, skin rashes, blisters, heartburn, etc. In such a situation, it is best to seek urgent medical help.
FAQ's
What questions do customers ask when they buy Sildenafil Oral Jelly online?
Who should use Sildenafil oral jelly?
Sildenafil oral jelly is used for treating the problem of impotence or erectile dysfunction in men. Erectile dysfunction is a condition in which a man loses the ability to get and sustain an erection at the time of the sexual act. It should be used by men who suffer from erectile dysfunction.
What is the best way to use Sildenafil oral jelly?
The maximum regular dose of the Sildenafil oral jelly is 100 mg. A physician usually begins with a 50 mg dose initially. The dose can be adjusted later after assessing the medical condition of the patient. You must take the pill 30 minutes before participating in the sexual act.
What is the difference between Sildenafil oral jelly and the other regular pills for ED?
Sildenafil oral jelly is available in jelly form and even old men can easily consume this medication as compared to regular hard tablets. Sildenafil Jelly works more quickly than regular pills as it dissolves in the blood quickly.
How does Sildenafil oral jelly help in erection?
Sildenafil Citrate Oral Jelly is a PDE5 inhibitor. PDE5 enzyme suppresses the formation of cGMP responsible for adequate blood supply in the penile area. Excess production of PDE5 causes erectile dysfunction. Sildenafil Citrate inhibits the production of the PDE-5 enzyme and hence it results in adequate erections during sexual intercourse.
Does Sildenafil oral jelly contradict any drugs?
You should not consume Sildenafil oral jelly along with drug having ingredients. If you are allergic to sildenafil citrate, it is advised not to consume this medication. People suffering from kidney, liver, or heart ailments should not use this drug.
What should be done in case of Sildenafil oral jelly overdose?
You should not consume more than one pill in 24 hours. Consuming this medication as per prescription can not result in a drug overdose. However, still, if you have taken a dose more than the prescribed limit accidentally, immediately seek medical help.
Customer Testimonials
What do our customers say when they buy Sildenafil oral jelly 100mg?
Donald Harris, USA
Sildenafil oral jelly worked like charisma for me. My partner was very happy and satisfied with my performance in bed after so many days. Now, I don't have to get embarrassed anymore in front of my partner.
George Robinson, USA
Sildenafil oral jelly is an affordable and effective medication for erectile dysfunction. I have been searching for medicine like this for the past many years. Thanks Allmedscare for providing me with this medication!