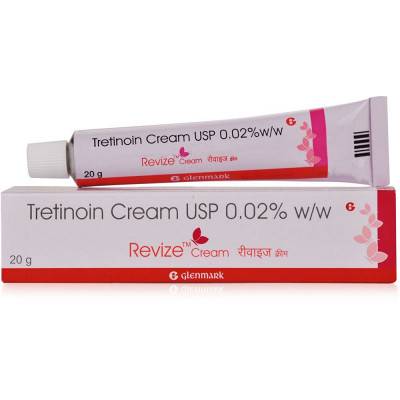 Treat Acne & other Skin Problems, Buy Generic Retin-A at lowest Price!
Generic Retin-A or Generic Retin is an acne treatment that is available in cream and gel form. Online, Generic Retin-A is sold as Tretinoin cream which also happens to be the generic name of this medication. It treats the symptoms of aging, acne, dark spots on the skin, wrinkles, pimples etc. Generally, Generic Retin-A or Tretinoin Cream should be applied 2-3 times in a daily for fast relief. A patient can buy Generic Retin-A online at Allmedscare.com on prescription. A dermatologist will assess the patient's condition and prescribe this medication accordingly.
Tubes
Strength
Price
Price/Unit
3 Tubes
0.02%w/w/20 gm

$

42.00
14
9 Tubes
0.02%w/w/20 gm

$

90.00
10
15 Tubes
0.02%w/w/20 gm

$

120.00
8
Description
Why you should buy Generic Retin?
Men and women suffering from acne can buy Generic Retin for Acne treatment. It is also an effective when treating damaged skin caused by sunburn and fine wrinkles. Generic Retin-A and its generic tretinoin or retinoic acid are made from an acidic form of vitamin A.
This topical medicine, which was originally designed for the treatment of acne, was found quite effective in handling aging-related issues such as sagging, wrinkles, dark spots and fine lines. People using it for acne treatment noticed that their skin got smoother, younger-looking and firmer. As a result, this cream was later termed an excellent anti-aging therapy.
One can buy Generic Retin for Acne treatment as a cream and a gel. This derivative of vitamin A increases the turnover of cells. After the reduction of the number of cells in the skin, the cells of existing pimples are replaced by new cells. Thus, new pimples are prevented from being formed with the rapid turnover of cells. Generic Retin-A works in the same way when it comes to the treatment of wrinkles, rough areas of skin and darkened skin. They are generally caused due to excessive exposure to the sun. The average treatment time for each condition is slightly different from the other.  In some cases, the treatment time may be a minimum of 3 weeks and a maximum of 6 weeks.
What does Generic Retin consist?
Generic Retin cream for Acne treatment consists of Tretinoin as its main ingredient. This magical ingredient helps fight against acne, damaged skin and fine wrinkles.
For all those who use tretinoin products, skin irritation is a common complaint. This irritation of the skin is nothing but the healing process. Where the old skin or damaged skin is getting replaced by new healthy skin. In most cases where retinol products do not work. They are been replaced with this tretinoin product. Generic Retin or Tretinoin contains:
It is a synthetic version of vitamin A.
Tretinoin is stronger than retinol.
The healing process is faster than retinol products.
Dosage
The perfect way to use Generic Retin-A for best results!
After you buy Generic Retin-A online use is externally only. The medication should be applied externally on skin and it is a skin care treatment medication. Oral use should be avoided at all costs. Discuss your condition with your doctor before you start using this medication. Apply Retin 0.025% with clean and dry hands. Apply a thin layer of Generic Retin-A 0.025 % on the affected area which again should be clean and dry.
Wait for at least 1 hour before you wash the treated area. Avoid using other products on the infected area after the use of this product.
Precautions
Precautions to consider while using Generic Retin-A
Do not use this medication if you have an abnormally high white blood cell count, sunburn or eczema.
Tell your doctor if you are allergic to certain foods, medicines and other substances.
Intimate your physician if you are using any dietary supplement, prescription or non-prescription drugs or herbal preparations.
Generic Retin-A may turn your skin more sensitive to sunlight. Use a quality sun protection cream before stepping out in the sun.
Do not use this medicine on wounded, chapped, dry or irritated skin. Inform your doctor if you have eczema before using Generic Retin-A.
Do not apply any other medicine on the same area at least 1 hour (before and after) of applying the generic Retin-A.
Do not wash the skin area for at least 1 hour after applying the generic Retin-A (tretinoin).
Side Effects & Warnings
What Are The Side-Effects of Generic Retin-A
Generic Retin-A is a tested treatment for acne and other conditions. In case you experience the following side effects stop using it and inform your healthcare provider without a delay:
Trouble breathing
Burning sensation
Itching
Reddening of the skin
Skin discoloration
Dryness
Irritation
Stinging
Rashes
Hives
Peeling and blistering of the skin
Tingling
FAQ's
Questions customer ask before they buy Generic Retin-A Online!
What Are the Best Ways to Use This Medicine?
Wash the affected skin area properly and let it dry. Wait for approx. 20 minutes and then apply this cream. Before and after applying generic Retin-A cream, it is strongly recommended to wash your hands properly.
Apply a thin layer of the Retin-A cream and rub it gently. Consult with your healthcare provider to get more details on how to use Generic Retin-A for better results.
What is the difference between Tretinoin and generic Retin-A?
The main active ingredient of generic Retin-A is Tretinoin. It is used for the treatment of various skin conditions such as acne problems, sun-burned skin, fine wrinkles, rough skin, and dark skin spots.
Can I use another cream medicine on the Same infected area?
You should not use any other cream or medicine on the same affected skin area at least 1 hour before and after applying generic Retin-A cream. If you use any other medicine, on the same skin area without waiting for 1 hour, you may not get the proper results.
Can I Use Generic Retin-A Cream On my Face?
Generic Retin-A contains, Tretinoin- a synthetic version of vitamin A. Therefore it is safe for acne, pimple problems on your face. You can apply it on areas like the cheeks, forehead, and other external parts of the body. Do not apply this medicine on sensitive areas like the eyes and lips.
Can I Use Retin-A Daily, Every Night?
Generic Retin-A should be used only after having prescription from a Physician. Initially, in the beginning, your physician may suggest you to use this medicine occasionally. You may use it once every three nights; only once a week if your skin feels irritated. However, after assessing the condition your physician may advice  you to start using it every night after a couple of weeks.
Customer Testimonials
Generic Retin-A Reviews By Our Customers
K T Sousa, United States
Retin A contains vitamin A and is very helpful in improving skin health. I have started using this as I have acne and dark spots on my skin. It's been a few weeks and I can see the glow in my skin and getting smoother week by week. If you have a lot of acne and dark spots, you can try Retin A cream. It is good!
Martin David, United States
It is the best cream for acne pimples. I used to have a lot of pimples on my face and I was very stressed and worried about this. I have used different types of creams to sort out this problem. But no effective results were found. Retin A cream gave me the confidence to look and feel good again.