Sale!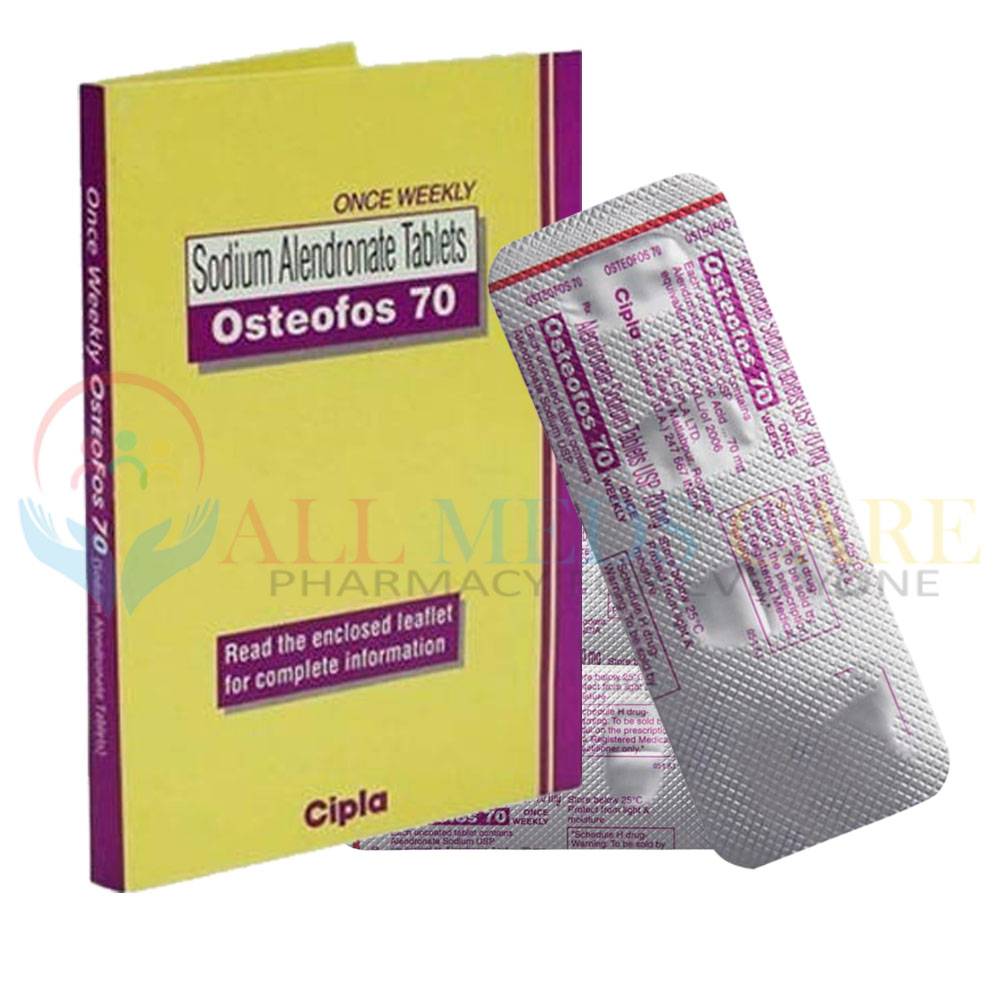 Buy Generic Fosamax 70mg for treating osteoporosis
Generic Fosamax 70mg is a medication used to treat Osteoporosis. It can also be called as calcium metabolism modifiers, bisphosphonate derivatives. Osteoporosis is a problem where bones of an individual becomes thinner and tend to break easily. Generic Fosamax slow down bone loss. Generic Fosamax belongs to a class of drugs called bisphosphonates. The main ingredient of Generic Fosamax is Sodium Alendronate.
| Pills | Strength | Price | Price/Unit | |
| --- | --- | --- | --- | --- |
| 60 Pills | 70 mg | | 2.18 | |
| 120 Pills | 70 mg | | 2.24 | |
| 180 Pills | 70 mg | | 2.22 | |
| 300 Pills | 70 mg | | 1.83 | |
Description
Introduction to Generic Fosamax 70 mg
Generic Fosamax 70mg contains 91.37 mg of alendronate monosodium salt trihydrate, which is the molar equivalent of 70 mg of free acid. A tablet of Fosamax also contains some inactive ingredients such as microcrystalline cellulose, anhydrous lactose, croscarmellose sodium, and magnesium stearate. It is an important women's health medication available at Allmedscare.com.
In females, Fosamax is used for treating or inhibiting osteoporosis; caused by menopause. Generic Fosamax 70mg is also used for treating osteoporosis caused due to consumption of steroids. Additionally, Generic Fosamax is used for increasing bone mass in people who are already suffering from osteoporosis. It is a possible solution to  Paget's ailment of bone in males and females.
How Fosamax works inside the body?
Fosamax contains Sodium Alendronate, a bisphosphonate that acts as a specific inhibitor of osteoclast-mediated bone resorption. Generally, A Bisphosphonate is a synthetic analog of pyrophosphate that is known to bind hydroxyapatite found in bones. Chemically, Sodium Alendronate is (4-amino-1-hydroxybutylidene) bisphosphonic acid monosodium salt trihydrate. It makes bones stronger and helps in the prevention/treatment of osteoporosis. The medicine functions by obstructing osteoclasts that are accountable for reabsorbing and breaking down the bone (through a procedure called bone resorption). Fosamax builds bones stronger by decelerating the loss of bone and letting the osteoblasts (bone constructing cells) function more efficiently along with the refinement of the bone mass. You should take a tablet of Fosamax as per your doctor's prescription and follow all the directions that are written on the medication leaflet. Do not alter the prescribed quantity. It is strictly advised to self a prescription without consulting your doctor.
What shall I do in case of missing a dose of Fosamax 70mg?
One-time every-day dose: You should only consume a maximum of one pill per day. In case of missed doses, you should wait until the next morning for the next regular dose. Skipping the missed dose is advisable as you should not consume 2 doses of this medication in a period of 24 hours.
One time per week dose: You can take the Fosamax as soon as possible if you forgot to take it on the scheduled day. But the next week, you should consume it on the scheduled day. Consuming 2 doses in a span of 24 hours is strictly prohibited.
What happens in the case of a Fosamax overdose?
In case of a Fosamax drug overdose, consult your doctor ASAP. It is advised to seek emergency medical help or contact a local poison control center for managing any effects that may be caused due to overconsumption of this medication.
What are the advantages and disadvantages of Generic Fosamax 100mg Online?
Following are a few advantages of using Fosamax:
It is used in the prevention and treatment of osteoporosis problems in postmenopausal females as well as males.
It plays a vital role in the treatment of glucocorticoid-encouraged osteoporosis and bone Paget's disease.
It treats adverse skeletal impacts instigated by certain cancers.
Medical Studies have revealed that Fosamax is quite effective in comparison to other bisphosphonates like risedronate. It helps in growing bone mineral thickness without any side effects.
Following are a few disadvantages of using Fosamax:
It might not be suitable for a few people who are suffering from pre-existing oesophageal disorders, kidney disease, and low blood calcium levels (hypocalcemia) or those who are not able to sit upright or stand straight for around 30 minutes at least.
The long-term usage of the bisphosphonates like Fosamax is also linked with osteonecrosis of the jaw, atypical femur fractures, and esophageal cancer.
The ideal period of treatment with Fosamax is still not clear.
The medication may interact with supplements comprising magnesium/calcium or drugs like antacids.
It may reduce the calcium levels inside the blood. Tests for lower levels of calcium in the blood must be done before Fosamax supervision.
Generic Fosamax is only available as a 70 mg hard tablet. Its liquid preparation has been stopped.
Dosage
Which is the best way to take Fosamax?
The Fosamax should be consumed in the morning. It is advised, not to eat or drink for at least 30 minutes after consuming this medicine. If you are consuming this medication every week, consume it on a similar day every week and as per the prescribed schedule. The medicine should be consumed with a glass full of water. You should not consume this medication with tea, coffee, juice, soda, or mineral water. You should not drink or eat anything with this medication except plain water.
Crushing, sucking, or chewing the Fosamax pill is not the best practice. After consuming the dose of the Fosamax tablet, it is advised to wait for at least for 30 minutes before you decide to recline or lie down. Do not consume any other medication that comprises calcium, vitamins, and antacids. Always take care of your dental cleanliness while consuming a Fosamax tablet.
Fosamax is a portion of a complete treatment package. The treatment package consists of diet alterations, bone mineral density analysis, workouts, and vitamin and calcium supplements. It is advised to follow the doctor's prescription and schedule. The pills of Fosamax should be stored at room temperature far from heat and moisture. A physician will decide on the appropriate prescription schedule after assessing your medical condition. Fosamax-based treatment is commonly recommended for a period of 3-5 years.
Precautions
What precautions should be followed while using Fosamax 70mg?
You should avoid the consumption of any other medicines after taking the Fosamax for at least 30 minutes. Medicines that comprise calcium, vitamins, and antacids should be avoided. Certain medications make it difficult for your body to absorb alendronate.
It is best to avoid or quit the habit of smoking as smoking decreases bone mineral density. This increases the probability of having bone fractures.
Avoid the consumption of alcohol in high quantities as can also result in bone loss.
What medications interact with Fosamax 70mg?
You should inform your doctor about all the other medicines that you are taking or have taken earlier like:
NSAIDs (non-steroidal anti-inflammatory drugs): naproxen (Aleve), ibuprofen (Advil, Motrin), diclofenac, celecoxib, meloxicam, indomethacin, and others
Aspirin
Calcium supplements as well as antacids
This is not a complete list of interactions. Other drugs (comprising over-the-counter and prescription medicines, herbal products, and vitamins) may also interact with Fosamax. You should have a word with your doctor regarding the appropriate prescription before you decide to buy Fosamax 70mg online.
Side Effects & Warnings
Side Effects of Fosamax
Minor Side-effects of Fosamax 70mg
The common side effects of Generic Fosamax have Decreased serum phosphate, Decreased serum calcium, Arthralgia, ostealgia, myalgia, Abdominal or stomach pain (more common), Trouble with swallowing (Less common), Heartburn (Less common), Irritation or pain of the throat (Less common), Muscle aching (Less common), etc.
Some other side-effects include Diarrhea, Constipation, full or bloated feeling, nausea, headache, dizziness or light-headedness, Blurred vision or other changes in vision, feeling of constant movement of self or surroundings, eye pain, hair loss or thinning of the hair, general feeling of discomfort or illness, the sensitivity of the eye to light, the sensation of spinning, tearing, etc. These side effects are minor and generally do not require medical care. Usually, these effects vanish as the body adapts to the drug.
Major Side Effects of Fosamax 70mg
Although Fosamax 70mg is a safe medication and does not cause major issues however in rare cases some major side effects may appear. These side effects are Skin rashes; blistering, peeling, or loosening of the skin; Intestinal or stomach cramps, bone, joint, or muscle aching, severe and infrequently unbearable, swelling or puffiness of the face, hands, arms, lower legs, or feet, chills, chest pain, seizures, confusion, diarrhea, cough, trouble with moving, trouble with breathing, heavy jaw feeling, heartburn, uneven heartbeats, hives or welts, joint aching, itching, slackening of a tooth, large, hive-like inflammation on the eyelids, face, tongue, lips, hands, throat, feet, legs, or sex organs, muscle pains in the hands, feet, legs, arms, or face.
Some people may also experience muscle pain or cramping, aching or burning in the esophagus, numbness and burning nearby the fingertips, mouth,  or feet fast weight gain, aching, inflammation, or numbness in the jaw or mouth, red, irritated eyes, red skin lesions, frequently with a purple middle, rapidity of breath, soreness of the skin, ulcers, sores, or white spots on the lips or tongue or in the mouth, sore throat, tingling of the hands or feet, inflamed joints, infrequent exhaustion or faintness, tremor, nausea, strange weight gain or loss, etc. In such cases, if these side effects persist for a longer time, it is advised to seek urgent medical help from a doctor.
FAQ's
What are the questions asked when they buy Fosamax?
My stomach started to upset after taking the Fosamax. What should I do?
Do not consume this medication with antacids or vitamins rich medications. While consuming a dose of Fosamax, always consume plenty of water. Do not recline or lie down for at least 30 minutes after consuming this medication. This prevents stomach-related issues from occurring.
Can I use Fosamax for the long term?
Your doctor or physician is the best person to advise you on the dosage and duration of treatment. Prolonged usage of this medication beyond 10 years is not advised as are no studies in support of drug safety in this respect.
Does Fosamax help in lowering the risk of fractures?
When you take the Fosamax for a few years; the risk of getting fractures also gets reduced. This medication is also helpful in increasing bone density.
Is it safe to consume Fosamax?
Fosamax is an effective and safe medicine that is used for the prevention and treatment of osteoporosis as per the FDA. People with abnormal esophagus, low levels of calcium, or who could not stand/sit for 30 minutes should not use this drug.
Does Fosamax results in the formation of proteins in the kidney, and urine or cause any liver damage?
The common side effects of taking Fosamax include an upset stomach, low levels of phosphate, diarrhea, constipation, or bone pain. Fosamax 70mg is not known to cause the formation of protein in the kidney, urine, or liver damage.
After how much time the side effects of the Fosamax remain if I stop the drug intake?
The time for which the side effects of the drug remain depends on numerous aspects. The minor side effects of this medication vanish within a short period of time. Fosamax gets stored in the bones of a human. Even after consumption of this medication is stopped, the remains of this medication stay in the body for a long period. Therefore, it is strictly advised to consume this medication only after consulting with a doctor or physician.
Customer Testimonials
What do our customers say when they buy Fosamax 100mg online?
Daniel Garcia, USA
I was suffering from ulcers and kidney issues, but still, this drug worked like a miracle for me. It also has an adequate amount of Vitamin D and calcium for effective results.
Mark White, USA
It is an effective drug that reduces my chances of bone fractures at the age of 55. My doctor prescribed me as I have a history of getting fractures. Got my medication at a low price from Allmedscare.com.