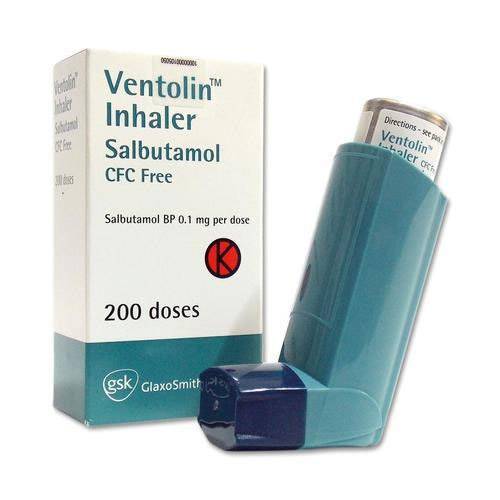 Buy Salbutamol Inhaler for asthma & breathlessness
Salbutamol Inhaler is for all those who face issues such as breathlessness or are Asthmatic. A salbutamol inhaler is an inhaling device used for nasal congestion. This inhaler gives instant relief from a variety of breathing problems. This inhaler is used to provide relief from asthma and chronic obstructive pulmonary disease (COPD) like- breathlessness, cough, and wheezing.
Units
Price
Price/Unit
2 Units

$

74.00
37
4 Units

$

140.00
35
6 Units

$

204.00
34
10 Units

$

330.00
33
Description
About Salbutamol Inhaler for asthma & breathlessness
Salbutamol Inhaler inhaler helps the airways to open up into the lungs by relaxing its muscles, thus making it easy to breathe. The color of the Salbutamol inhaler is usually blue. Salbutamol inhaler is highly effective and used by people in large numbers. However, using it under medical supervision is important and safe at the same time. It is a proven treatment hence most people like to buy Salbutamol Inhaler for asthma & breathlessness treatment.
The inhaler is also called a 'reliever inhaler' because of its instant relief imparting properties. Breathing problems vanish in some time with its usage. However, it is not recommended to use on daily basis. Salbutamol inhalers can be used only a few times. Make sure to use it on prescription, or else it can be detrimental to health.
How Salbutamol Inhaler Works?
A salbutamol inhaler is a type of dispenser and is taken as a puff. It acts as a bronchodilator, which means it clears air passages into the lungs and helps by providing quick relief from breathing problems.
Salbutamol inhaler belongs to the class of drugs called ß2-adrenoreceptors and acts on the same. They are present on the smooth muscle that encloses the bronchus in the lungs. This drug adheres to the epinephrine's active areas in the receptor and makes it stable in its active state. In their active state, these receptors spend adequate time, thus resulting in making more cAMP.
cAMP is an enzyme that activates intracellular cascades. Thus, a Salbutamol inhaler stops the ability of muscles to constrict. Therefore, helping people with breathing problems like asthma, breathlessness, etc.
Dosage
How to Use Salbutamol Inhaler?
In the case of children, between the age group 2 to 12 years old. The dosage depends entirely on body weight. The dose should not be taken more than three times a day.
The dose should be 2.5mg and taken through a nebulizer. The doctor's advice is a must for using Salbutamol inhalers in children. Children above 12 years and adults can take the drug up to four times a day through a nebulizer. 2.5 mg is the recommended dosage.
Precautions
Precautions to Remember with Salbutamol Inhaler
People having heart issues, nervous disorders, diabetes, thyroid, etc need to be cautious while taking the drug. Taking a Salbutamol inhaler in large doses can cause diabetes-related complications. So, take the drug only after consulting with the doctor.
The effect of the inhaler lasts for up to six hours. Hence frequent use of the inhaler needs to be avoided. Also do not change the dose without consulting a doctor. If the prescribed dose is not causing any benefit, see your doctor.
Side Effects & Warnings
What are the Side Effects?
Some common side effects of the drug are– dry mouth, headache, dizziness, change in taste, cough, etc.
Warning Signs:
If you experience tightness in your chest after using a Salbutamol inhaler, stop its use at once and see your doctor.
Overuse of the drug may cause adverse effects on the body. Thus, avoid overdosing.
If the drug cause changes in pulse rate or causes blood pressure issues, discontinue the use immediately.
After the completion of the prescribed course if you think you need more of it for better results. Do it on the doctor's advice only. Do not self-medicate in order to avoid adverse effects.
FAQ's
Questions customers ask before they buy Salbutamol Inhaler Online!
What happens if you take more Puffs of Salbutamol Inhaler than recommended?
If you take more puffs than recommended by your doctor, Salbutamol Inhaler may cause a few side effects like fast breathing, irregular heartbeat and trembling. Try to take puffs of Salbutamol Inhaler puffs within your prescribed limit.
How can we use Salbutamol Inhaler to get the best benefits?
To get all the benefits of a Salbutamol Inhaler; you should breathe deeply and try to hold your breath for at least 10-15 seconds, then exhale completely. When not in use close the inhaler with the cap provided with the inhaler. So that the medicine inside the inhaler does not interact with the air.
Can Salbutamol Inhaler damage lungs?
If you use it under the supervision of a doctor and take only the recommended puffs. It will not harm your lungs. But overuse of Salbutamol Inhaler can harm the lungs badly and increases the risk of an attack.
In how much time Salbutamol Inhaler comes into action?
Salbutamol Inhaler shows its results within 2-3 minutes as you take a puff. Its effects last for about 3 – 5 hours which means it remains in the body for 3 – 5 hours.
Can I drink water after the use of the Inhaler?
Regular use of a Salbutamol Inhaler can cause irritation in the throat. There are also few chances of getting an infection in the mouth and harness in the throat. So, it is good to gargle with simple water just after the use of this inhaler. Rinsing the mouth with water helps to prevent oral infection but do not swallow this water.
Can I buy Salbutamol Inhaler without a prescription?
You need a valid prescription to buy Salbutamol Inhaler. The right amount of dose according to prescription will certainly cure Asthma related problems. If one has a valid prescription he can buy Salbutamol Inhaler from Allmedscare.com.
Customer Testimonials
Salbutamol Inhaler Reviews By Our Customers
Thomas Panny, United States
My son was suffering from Asthma and the doctor prescribed me Salbutamol Inhaler. He advised us to take 2 puffs in a day or when required. I ordered it from the online store Allmedscare.com and received it on time. I got the best and most genuine Salbutamol Inhaler and it worked for my son. Thanks, Allmedscare for instant delivery and the best discount on Salbutamol Inhaler.
Mike Wilson, United States
I was searching for the best and low priced Salbutamol Inhaler and came across Allmedscare.com. As the price shown on this healthcare portal were low compared to other pharmacies, I ordered a few Inhalers from them. They delivered it on time with a few discount coupons for the next order. I am happy and impressed with their overall online service.